News
Friday, November 2, 2018
MCC's Philharmonic Orchestra conductor is 'doing music all the time'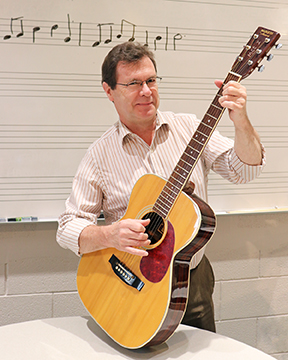 Joseph Herdegen has been performing instrumental and vocal music since he was in middle school.
The 56-year-old from Grand Rapids is now sharing his talents with Montcalm Community College's Philharmonic Orchestra as its new conductor. He plays the baritone and sings tenor in a variety of school, church and community groups including the Grand Rapids Symphony Chorus, the Grand Rapids Symphony's Community Chorus, the Forest Hills Adult Community Band and Anam Kara, a private group that performs early Celtic Renaissance music.
"Through all of that, I play instruments for other people and I sing when I get called. I'm just doing music all the time," he said.
MCC's Philharmonic Orchestra was established five years ago and led by longtime Greenville resident Char Lothian, who conducted the orchestra for one semester. Upon her retirement, Greenville Middle School Band Director Jeff Ayers led the group until last spring.
Herdegen brings a wealth of experience as the orchestra's third conductor. He previously served as production manager with Opera Grand Rapids, as a substitute for public school band teachers and over the course of 16 years, he served five times as interim music director with parishes making transitions between music directors. In addition, he worked for more than eight years with the Grand Rapids Symphony in production.
"I set up the symphony, moving it from location to location, which at one time took me to Greenville for the holiday concert," Herdegen said. "I also did a side-by-side concert setting up both the symphony and the Greenville High School orchestra together.
"I have conducted groups in the past, but only as a substitute. This is my first time as the conductor," he added.
Herdegen said the MCC Philharmonic Orchestra "is a unique body. The instrumentation is interesting to work with. I have had to adapt the pieces we are playing to have them make sense for that size of an orchestra."
With eight string instruments and 12 winds, Herdegen said his biggest challenge is "to make every instrument have its own unique voice within the ensemble and bring out that flavor of the piece. If it's really a strings-based piece, let the strings shine. If it's a more modern piece, typically the woodwinds and brass shine, but the strings can't be lost in that mix."
The orchestra will perform its fall concert Nov. 11 at 3 p.m. in the gymnasium in the Activities Building on MCC's Sidney campus. Selections will include the MCC Alma Mater by Vern Blake and Kenneth Smith; New World Symphony Movement Number 1 by Antonin Dvorak and arranged by Merle J. Isaac; a Disney Medley arranged by Alex Tewkesbury; Symphony #15 Black Halloween, Movement Number III – Nymphs and Gnomes: A Chaconne by Michel Rondeau; Cox and Box Overture and Pirates of Penzance Finale of Act 1 by Sir Arthur Sullivan.
"The New World Symphony is very much a string piece with punctuations of brass," Herdegen said. "The Disney Medley is all woodwinds and brass with an underlying of string. The late 1800s theater pieces by Arthur Sullivan of Gilbert and Sullivan are a great mix of the entire group because they were done for pit orchestra – they match a small ensemble really well."
Herdegen said he is excited to work with the orchestra and sees potential for growth, especially with strong music programs in area schools training musicians with diverse talents.
"I want it to become an orchestra with a great amount of strings and strong wind players," he said. "I do know what an orchestra looks like and sounds like, and I would like to get to there.  More strings than winds, but of course a full component of winds and percussion.
This fall's Philharmonic Orchestra instrumentalists include: Kaitlyn Bremer, Patricia Eads, Sue Hudson and Karen Playford, violins; Kelsey Lester, viola; Sabrina Slaw, cello; Jayne Johnson, Becky Little and Jennifer Miller, flutes; Renae Osmolinski, oboe; Deborah Baldwin, Barb Bremer, Wyatt Plavan and Kathy Wilkin, clarinets; Emily Jensen, bassoon; Phil Barker, trumpet; Robert Hansen, euphonium; and Matt Kam and Andy Rosenburg, trombones.
MCC's Philharmonic Orchestra performs two concerts annually, one in the fall and the other in the spring. The group is open to instrumentalists with previous instrumental ensemble experience.
Visit www.montcalm.edu/arts-and-culture for more information about MCC's philharmonic orchestra and its other arts and cultural offerings.