News
Thursday, February 28, 2019
MCC celebrates Women's History Month 2019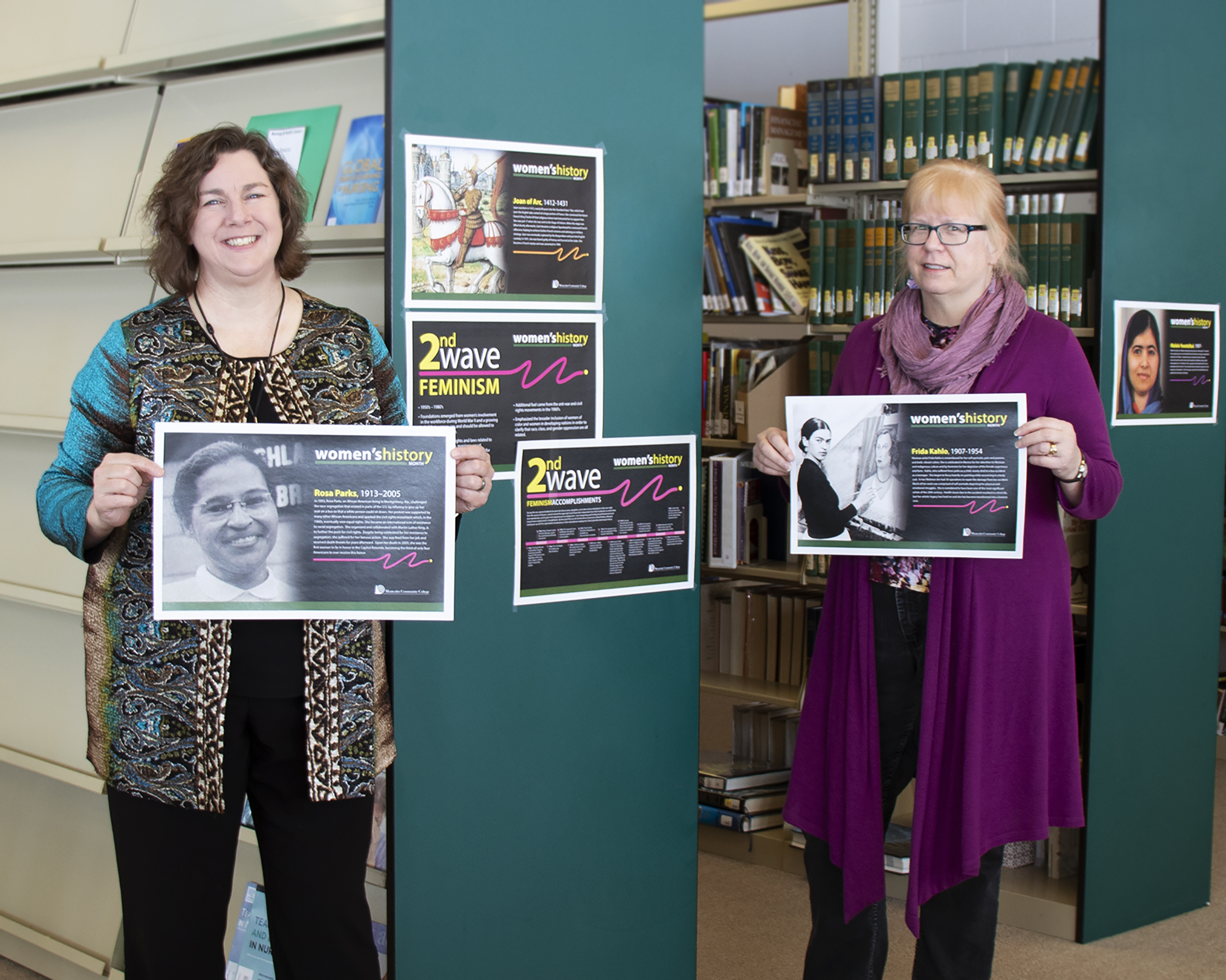 Women's History Month helps look back at barriers women have overcome to be accepted as equals to men in society and in the workplace.
Since 1848, when the First Wave of Feminism began, significant changes have occurred in the perception of the role of women in society.
Montcalm Community College Psychology Instructor Jessica Snyder Arts and Humanities Instructor Carolyn Johnson are leading the celebration of Women's History Month at MCC in March.
"Most people are unaware of how hard people fought to give us things we take for granted," Snyder said.
"Being a feminist has meant different things over time," she said. "In the mid- to late-1800s, it meant that women wanted the right to vote, own property and go to school. In the 1960s, it meant they wanted to become financially independent from their husbands, control their own reproduction and gain more equal access to employment. Most recently, it means equal opportunities for all regardless of sex, gender, race, sexual orientation or any other difference.
"When you think about the duration of the battles -- it was 80 years they fought for the right to vote -- these were hard won battles," she added.
To celebrate Women's History Month and educate people about the Women's Rights Movement, MCC hosts two slam poets – Michaelyn and Sprout – on March 6 from 12 to 1 p.m. in rooms D303-305 in the Beatrice E. Doser Building on the college's Sidney campus. Admission is free and lunch is provided for all attendees. Their performances will focus on women/femme liberation and the history of women's rights.
Michaelyn has been writing and performing spoken word poetry since November 2016. Inspired by the rise of demagogue leadership in American politics, her poetry centers around concepts of identity, trauma and empowerment. Her writing aims to incorporate historical and cultural perspectives learned during her four years as a sociology student at Grand Valley State University, along with personal studies in queer theory and radical feminism. As an artist, Michaelyn sees her work as a practice of recreating the personal as political, as a means of embodying resistance, and as a process of liberating selfhood. 
Sprout is a potpourri-of-queerness, mental-health advocating, Pisces poet hatched from the Great Lake State. An award-winning writer and spoken word artist, Sprout (previously known as KFG) has been featured on National Public Radio (NPR) and traveled the country on a mental health awareness tour. Sprout also competed with the first Grand Rapids area team in over a decade to represent their region at the National Poetry Slam in 2017 and placed third in group pieces in 2018. Sprout is also a teaching artist with The Diatribe, a non-profit organization in Grand Rapids dedicated to uniting and inspiring youth through spoken word poetry.
"They are both using their art to advocate for women's rights and equality," Snyder said, adding that the performances may be emotionally powerful and inappropriate for children.
In addition to the March 6 presentation, information about the three waves of feminism, as well as posters depicting accomplishments by females who have fought for women's rights will be on display in various locations on MCC's Sidney and Greenville campuses during the month of March.
"Our goal is to raise awareness of the evolution of women's rights," Snyder said.
Please visit www.montcalm.edu/Womens-History-Month for more information.