News
Thursday, May 16, 2019
'The Marsh King's Daughter' is the 2019 One Book One County Montcalm selection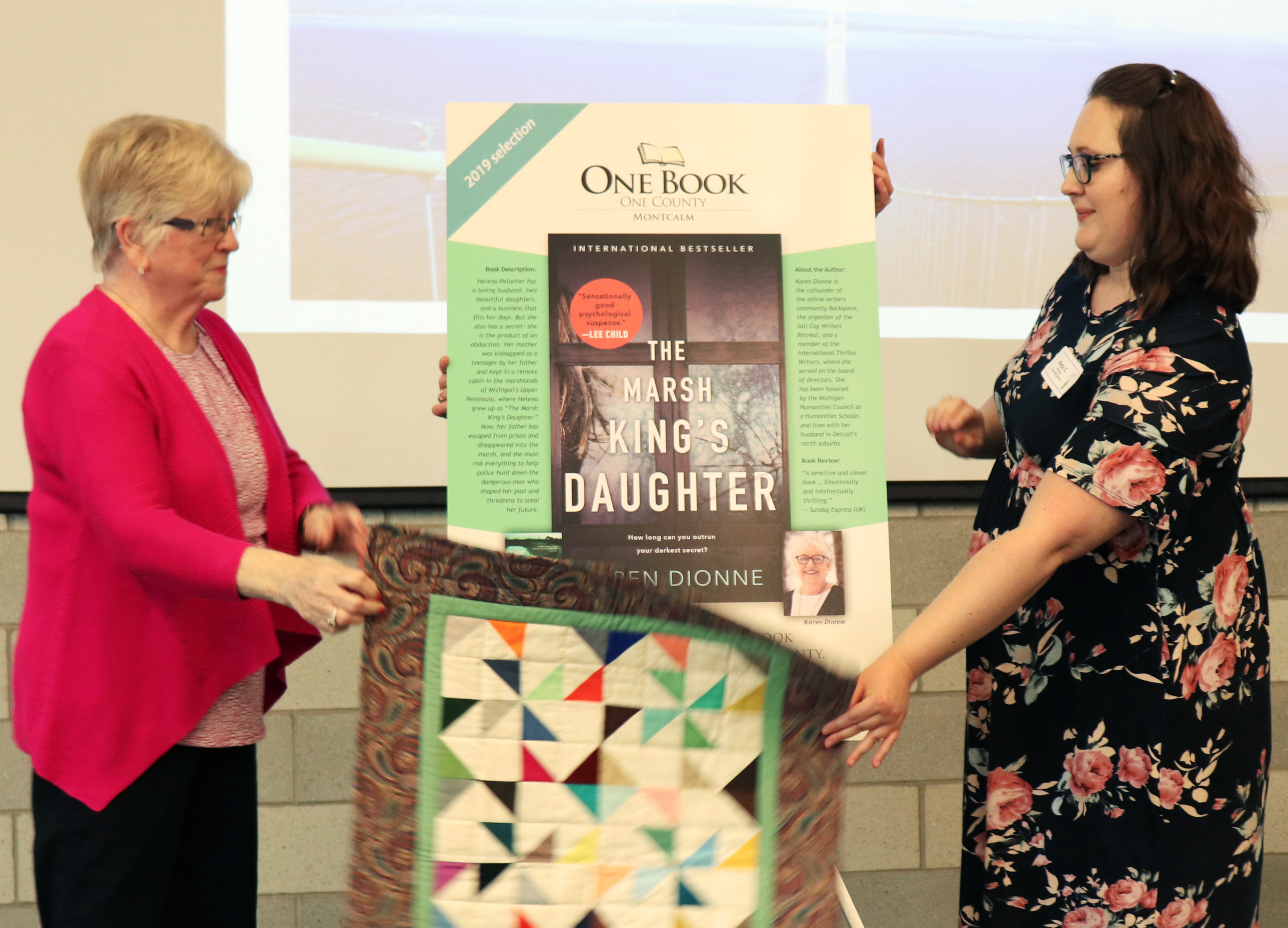 "The Marsh King's Daughter" by Karen Dionne is the book everyone is reading as the 2019 One Book One County Montcalm selection.
The title was announced during a May 16 kickoff celebration at Montcalm Community College's Stanley and Blanche Ash Technology and Learning Center (Ash TLC) on the college's Greenville campus.
"The Marsh King's Daughter" is a mesmerizing tale of a woman with a secret that could tear her family apart. Helena Pelletier has a loving husband, two beautiful daughters, and a business that fills her days. But she also has a secret: she is the product of an abduction. Her mother was kidnapped as a teenager by her father and kept in a remote cabin in the marshlands of Michigan's Upper Peninsula, where Helena grew up as "The Marsh King's Daughter." Now, her father has escaped from prison and disappeared into the marsh, and she must risk everything to help police hunt down the dangerous man who shaped her past and threatens to steal her future.
Dionne is an award-winning author, earning the Barry Award for Best Novel at Bouchercon in 2018 for "The Marsh King's Daughter."  One Book participants will get to meet Dionne during the closing celebration on Sept. 17, when she will share her story of becoming an author; talk about being an author and how she generates ideas, writes her books and develops characters; and discuss "The Marsh King's Daughter." She will also answer questions from the audience and autograph their books. The event will begin at 6 p.m. in rooms D303-305 in the Beatrice E. Doser Building on MCC's Sidney campus.
Ten book discussions are scheduled throughout the county from June into September.
Tuesday, June 11 – Noon, Montcalm Community College Library in the lower level of the Donald C. Burns Administration/Library Building on the college's Sidney campus.
Monday, June 17 - 6:30 p.m., Crystal Community Library
Thursday, June 27 – 5 p.m., Tamarack District Library, Lakeview
Monday, July 1 – 7 p.m., Tamarack District Library, Lakeview
Tuesday, July 2 – 10 a.m., Home Township Library, Edmore
Wednesday, July 17 – 6:45 p.m., White Pine District Library, Stanton
Tuesday, Aug. 6 – 6 p.m., Carson City Public Library
Tuesday, Aug. 6 – 6 p.m., Flat River Community Library, Greenville
Friday, Aug. 23 – 11 a.m., Richland Township Library, Vestaburg
Monday, Sept. 9 – 10 a.m., Timothy C. Hauenstein Reynolds Township Library in Howard City.
One Book One County Montcalm is sponsored by The Daily News, MCC, the MCC Foundation and the public libraries of Montcalm County.
For discussion questions or more information, visit www.montcalm.edu/one-book.