News
Tuesday, July 2, 2019
'It has been an enjoyable experience'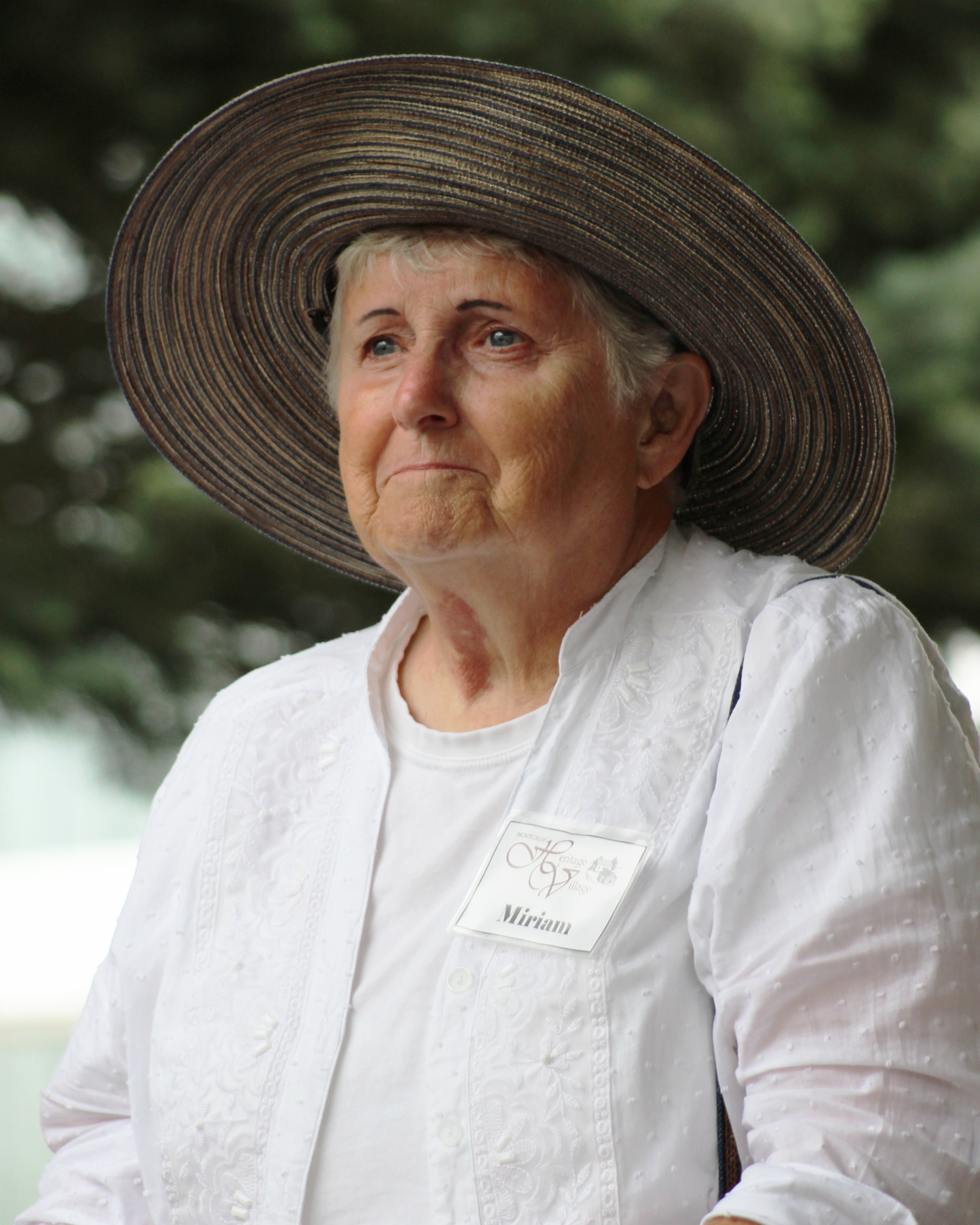 When Miriam Zimmerman retired from teaching in 2000, she traded one classroom for another.
Since then, the 77-year-old from Carson City has spent countless hours each year sharing her passion for history and a simpler lifestyle with students of all ages at Montcalm Heritage Village. Established in 1987, the village has grown to include 28 buildings on Montcalm Community College's Sidney campus, and it features hundreds of artifacts from local areas depicting life in Michigan in the late 1800s and early 1900s.
Zimmerman said as she wrapped up her 28-year teaching career, she became interested in the village because all three of her daughters participated as students in the one-room Gaffield School during Heritage Festival, held annually the first weekend in August.
"Their Aunt Jean (Zimmerman) would take them over for the festival," she said. "It was educational and fun, and I thought when I retired it was something I would like to be involved with."
"Jean had taught for one year in the Gaffield School around 1945, so there's a real family connection with the school," Zimmerman said.
When she first began volunteering with the group, she helped Sharon Ritter in the Gaffield School with students who were visiting the village. She also worked on beautification projects, coordinated and worked in the concessions booth and became a member of the Montcalm Area Master Gardener's Association in 2001, which maintains the gardens in the village.
After a few years, Zimmerman took on the role of secretary for the group of volunteers. She most recently served for six years as president, transitioning the role to Shannon Neuman-Kilduff two years ago.
"It has been an enjoyable experience over the last 19 years," Zimmerman said. "I enjoy the people who visit the festival and the local students who come out for school field trips and being able to share our local history with them."
The Montcalm Heritage Village Volunteers is the committee that oversees Montcalm Heritage Village and coordinates Heritage Festival. It is comprised of individuals from the community who share a passion for preserving history. Throughout the year, they work on various projects to enhance the village, as well as conduct fundraisers to financially support their work.
"We try to preserve the buildings using natural materials in order to keep them as close to their original construction as possible," Zimmerman said.
During the school year, the group hosts tour groups from area K-12 schools, that consist largely of second- and third-graders and their chaperones. This spring, about 450 students took a step back in time as they learned about education in the one-room schoolhouse and explored several other historical buildings.
"It's fun to see their faces as they look around the school and see the ink well holes in the desks. They are curious about the map box and wonder why there's no cafeteria in the building," she said. "They are surprised. Just to see them look around … you can see the wheels turning.
"We don't always have the church open, but when we do, they are in awe," Zimmerman said. "In the township hall, we show them the ballot boxes and we talk about how people used to vote. Many of them have been with their parents to vote, so they are familiar with today's computerized system where they slide their completed ballot into the machine.
"We hope through the educational process of students coming to the village, that they get a better understanding of what their ancestors went through in order to settle this area," Zimmerman added.
The 33rd annual Heritage Festival is Aug. 1-3, from 10 a.m. to 4 p.m. daily. Several activities and displays are available all three days, including historical displays in Heritage Village buildings, live music, an antique tractor display, children's activities, ironwork demonstrations in the Blacksmith Shop, a display of a railroad speeder and equipment, demonstrations by the American Mountain Men, a Civil War Encampment, craft demonstrations, an ice cream parlor and dairy equipment display, antique small engine displays, steam engine display and demonstrations, cake walks and more.
Zimmerman hopes people will take time to visit.
"It's a continual process to create more awareness about the village so people know that we're here," she said. "We often are referred to as a smaller version of Greenfield Village. This is Montcalm County's best kept secret."