News
Thursday, February 6, 2020
MCC celebrates Black History Month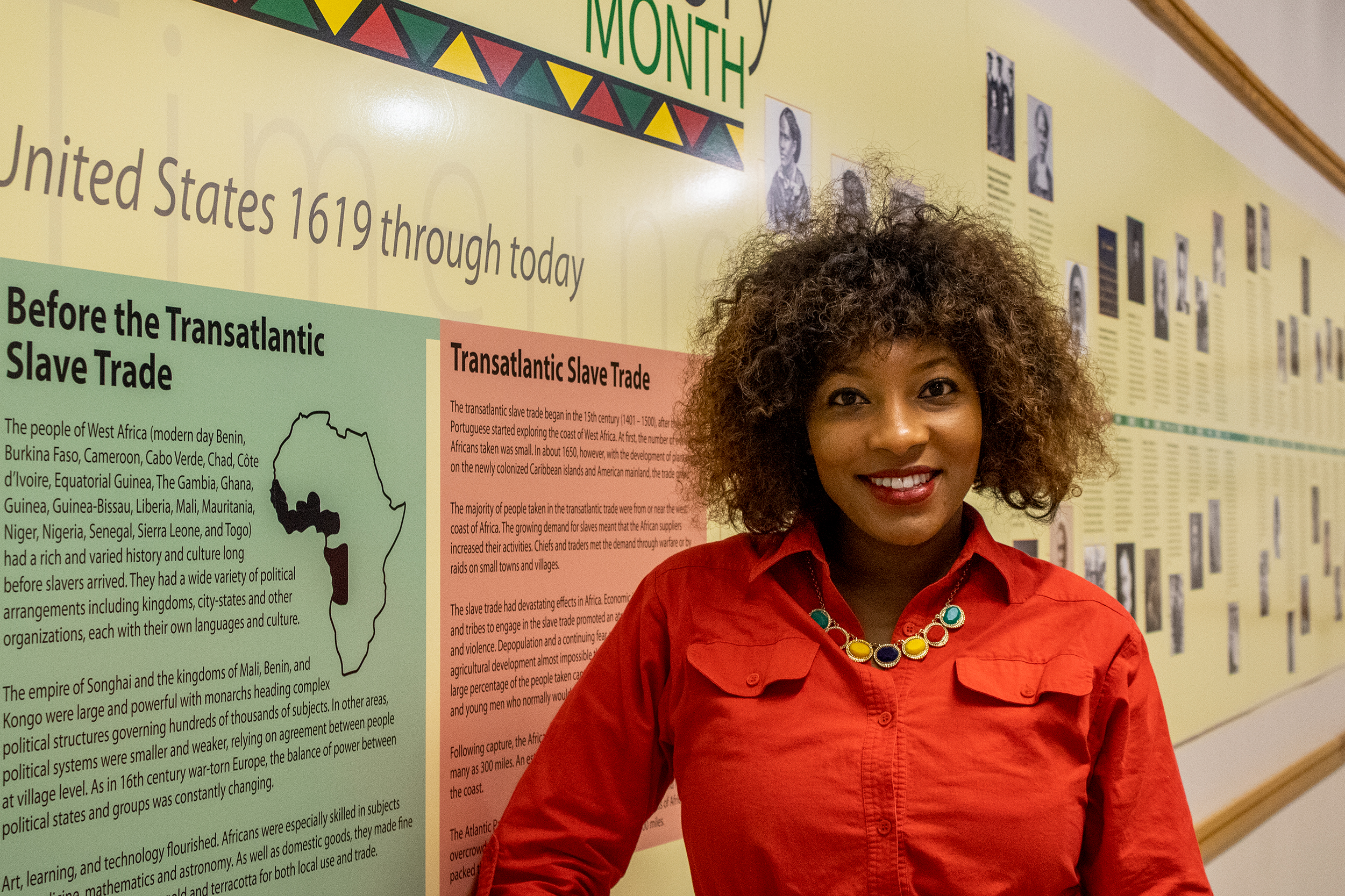 In celebration of Black History Month, a timeline depicting key historical events and highlighting people who made significant contributions to black history from 1619 through the present is on display on Montcalm Community College's Sidney and Greenville campuses. 
Black History Month is a celebration of achievements by African Americans and a time for recognizing the central role of blacks in U.S. history.  
MCC Speech and Communication Instructor Leslie Neal, who is coordinating the college's celebration, said the timeline aims to increase awareness about black history. 
"The United States as a nation deciding that we need to have this month of celebration speaks to our decision as a country to move from this form of omission of history to inclusivity of history," she said. 
"I think that's important because omission can be a form of deception. I believe for our health as a country, it's important for us to acknowledge the voices that we're lacking in certain stories and certain spaces, specifically minority voices, African Americans for one. We recognize four national heritage months in our country, and I think all four are important pieces of our fabric of society," she added. 
The precursor to Black History Month was established in 1926, when historian Carter G. Woodson and the Association for the Study of Negro Life and History announced  the second week of February be Negro History Week. The goals were simple – to illustrate how blacks had played important roles in the creation of America and thereby deserve to be treated equally as citizens and to increase the visibility of black life and history. 
In 1969, students and educators at Kent State University proposed Black History Month. The first celebration of Black History Month took place at Kent State one year later. Six years later, President Gerald R. Ford recognized Black History Month and it was being celebrated across the country. 
"I think going back to the idea of the full story, a lot of times we get really comfortable with just our story. When I say our, it's very introspective. We have to be alright knowing that our story as a nation means there are people in the story that don't look like us, that don't think like us, that weren't raised the way that we were raised, and that's OK," Neal said. "There are people in our society that do not share the same life experiences that we share." 
Neal hopes the community embraces the college's celebration. 
"I would love for this to be a celebration campus wide and community wide, going back to that inclusivity part of black history and being able to stretch beyond ourselves," she said. "I am excited that even though we are not an institution that mirrors the country in terms of racial demographics, we can be an institution that provides educational opportunities that do extend to represent our country as a whole." 
Sixty points on the timeline provide a diverse look at historical elements of black history. The timeline is on display in the Beatrice E. Doser Building on MCC's Sidney campus and in the Stanley and Blanche Ash Technology and Learning Center on the college's Greenville campus. It may be viewed during regular business hours, which are available at www.montcalm.edu/hours. 
Visit https://montcalm.edu/black-history-month to view highlights from the timeline.
The Black History Month timeline displays are funded by the MCC Foundation Stanley and Blanche Ash Community College Enhancement Fund, which supports the college in developing and enhancing career training, educational opportunities, programs and services for students, alumni and citizens of the college community.