News
Friday, May 22, 2020
'It's perfect for me' - MCC ag student pursuing her dream as Greenstone Farm Credit Services intern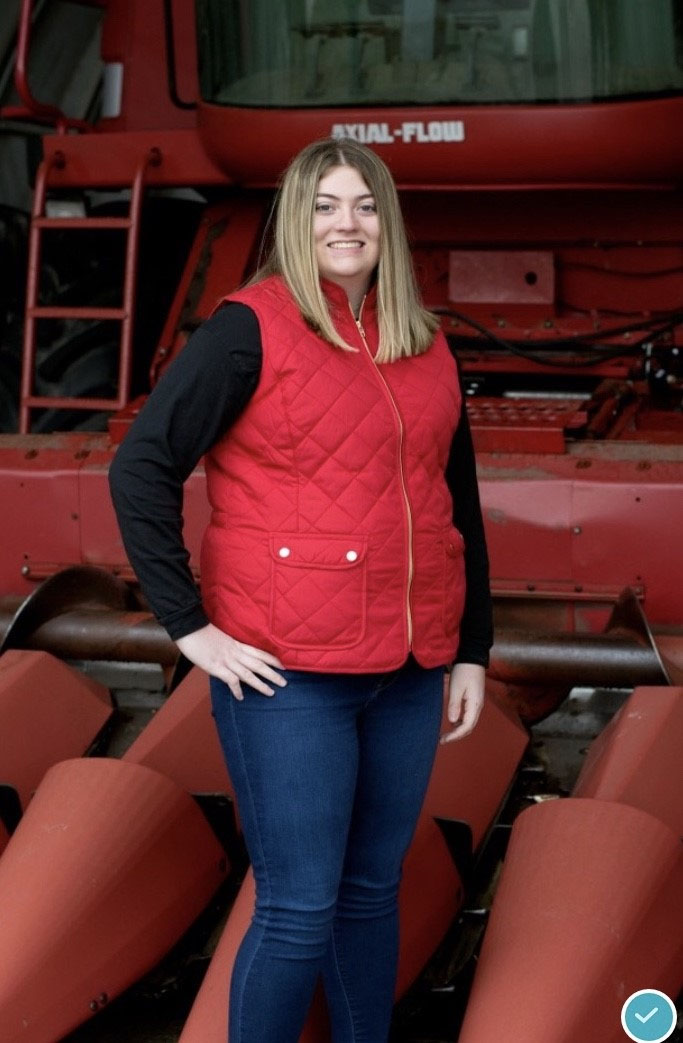 Emily Portell is well on her way to landing her dream job.
The 19-year-old Trufant-area resident just finished her second year in the Ag Operations program at Montcalm Community College (MCC), in partnership with the Michigan State University Institute of Agricultural Technology (MSU IAT), and she is working at an internship with Greenstone Farm Credit Services this summer.
"I have always wanted to work at Greenstone," she said. "I hope to be there for a long time."
As a crop insurance intern, Portell is working in Greenstone's Ionia office. Her primary responsibilities include data entry for farmers, particularly for Wisconsin cattle producers and the crops needed to raise those animals.
Portell said she really enjoys the financial aspect of working with farmers at Greenstone.
"I like to work outside and in the office," she said. "With crop insurance, I get to visit farms and assess fields and I also get to work in the office. It's about a 50-50 split. It's perfect for me."
Portell was raised in an agricultural family. Her dad manages a dairy farm and her grandfather owns and operates a field crops farm. She grew up helping out and said her favorite job was driving tractors.
"I knew I wanted to go into agriculture. I just wasn't sure what I wanted to do because there are so many program and career opportunities," she said. "I also knew I wanted to go to MSU, but it is pretty expensive. When I saw MCC and MSU offer the dual-enrolled program in Agricultural Operations, I thought it would be a good fit. It's a general agriculture degree and it has helped me figure out what I want to do for my career. Plus, it was close to home and I saved a lot of money."
Completing an internship is a requirement for the Agricultural Operations program. Last summer, Portell worked as a potato scout, spending her time in Montcalm County potato fields looking for diseases, pests and weeds.
"My dad grows potatoes in the garden, so it was interesting to me," she said. "It was fun, but I learned that I'm not 100-percent an outdoors person. I really like the mix of responsibilities working with crop insurance."
Portell has been very active in ag education as a student at MCC. This year, she served as the president of the college's Ag Club and provided leadership for a variety of community service projects as well as the club's annual hanging baskets sale, it's primary fund-raising activity.
MCC-MSU IAT program coordinator Merry Kim Meyers, who serves as one of the Ag Club Advisors, said "Emily is an agribusiness superstar. She has that natural ability – and now the college education – to view agriculture from an economics vantage point.
"So many people believe agriculture is merely production of crops and animals; in reality, that is only 10 percent of the ag-related jobs," Meyers said. "She is thriving in her summer position with Greenstone Farm Credit Services. Emily's leadership role as President of the MCC Ag Club contributed to our extremely profitable greenhouse plant sale. She has an eagle eye for detail for the finances along with monitoring pests, watering and fertilizing."
"We are so grateful for Emily's dedication to her academic studies and to role modeling leadership to our younger members in the Ag Club," Meyers added.
Portell will return to MCC this fall, to finish the requirements for an associate degree in Agricultural Operations from MCC and a certificate in Agricultural Operations from MSU IAT. In January 2021, she plans to transfer to Oregon State University to complete an online bachelor's degree in Agricultural Business Management.
Long-term, she hopes to continue working for Greenstone Farm Credit Services. In addition, she is committed to working to educate people about agriculture and where their food comes from.
"A lot of people don't understand all the work it takes and the time and resources that go into producing food," Portell said. "A lot of people think their food just comes from grocery stores."