News
Tuesday, August 18, 2020
MCC's Alumni and Friends Choir brings together the community with a virtual performance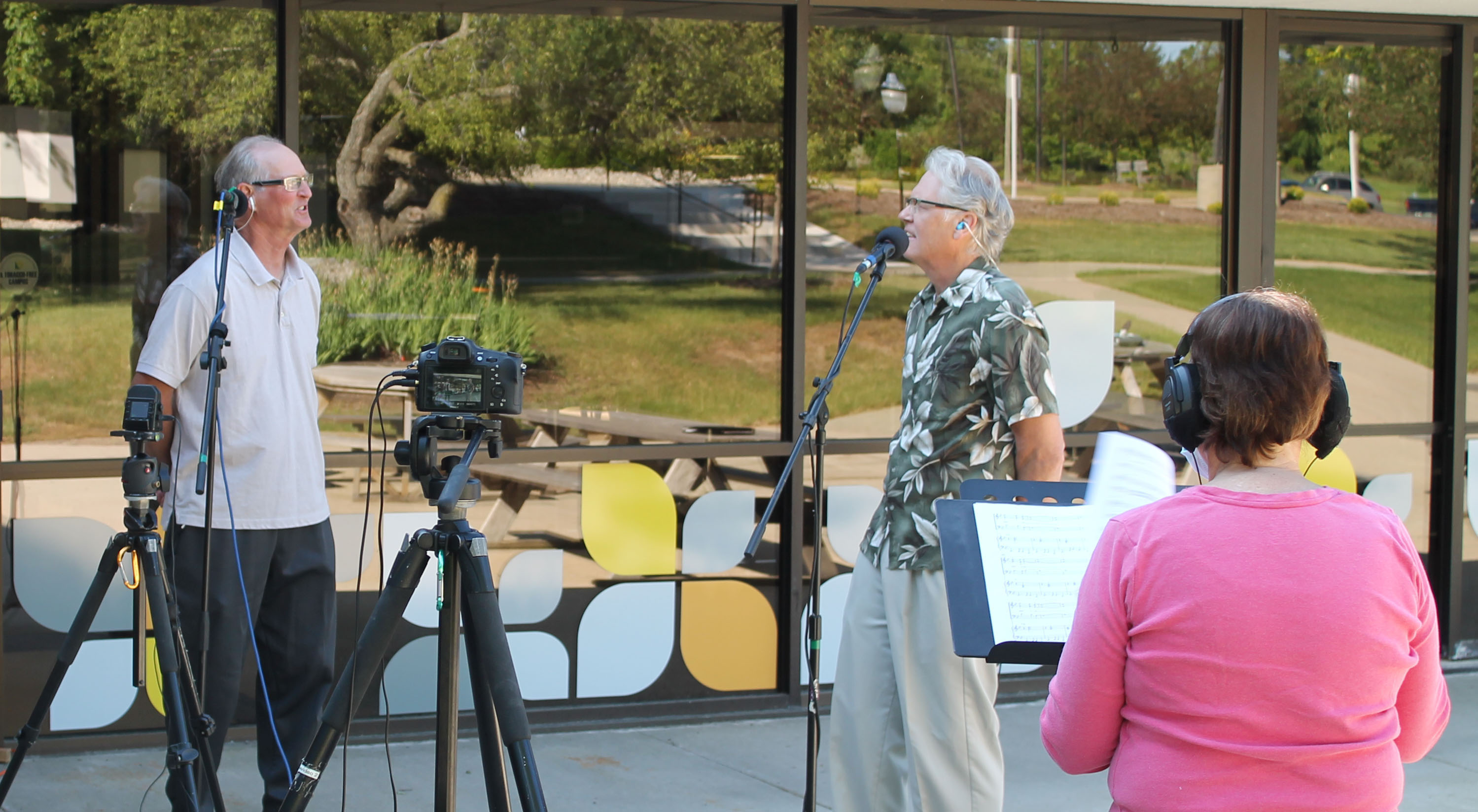 By Shanika P. Carter, MCC Writer
The coronavirus pandemic may have disrupted the lives, plans and special occasions of many, but the Montcalm Community College (MCC) Alumni and Friends Choir managed to still come together to bring their love of singing to a virtual audience through a musical performance of MCC's Alma Mater and the song "Aquarius."
Upon being faced with the cancellation of their April concert, the recording, produced and edited this summer by Duane Weed of DW Video resulted in a beautiful compilation video.
Two months of planning, organizing and scheduling of the recordings, along with about 40 hours of editing, resulted in the release of the videos showcasing the two songs. A total of 26 musicians in nine groups recorded in different local community spots, including both MCC campuses, as well as locations in Stanton, Sheridan and Greenville, over the course of a three-day period.
"This has been a monumental task, but It's a work of love," said Val Vander Mark, Director of MCC's Alumni and Friends Choir. "All the musicians were very diligent in preparing their parts, and exceptionally professional and cooperative during long, hot recording sessions, all outdoors."
Other challenges that came with the process, according to Vander Mark, included the intimidation of being recorded singing alone without the other choir members, not having the proper equipment or technical knowledge for the process, and those who backed out because of their COVID-19 and social distancing concerns upon recording with the groups.
Regardless of the complexity and challenges that came with bringing this project together, Vander Mark was able to get things moving with the support of many, including her husband of 33 years, Greg Vander Mark.
"I have been involved and participated in projects with Val in what seems forever. I sing bass and most anybody who knows me knows I love to sing," explained Greg Vander Mark, who is also the Director of Music Ministry at First Congregational Church of Rockford and has been a part of the Alumni and Friends Choir since the very beginning. "Whenever there is a chance to sing, we are there."
For Deborah Baldwin, who sings first soprano in the choir, participating in this musical video collaboration was a way of giving back to her MCC community.
"My life has been so enriched by this college. I was a cheerleader for the college back in the 70's when they had a basketball team" said the nursing graduate, who recently retired after 40 years in the health field.
Baldwin, who attended college on a vocal scholarship, is particularly fond of the connections she has made, sharing, "I met my husband here, made life-long friends here, and love being a member of MCC Alumni and Friends Choir."
In the end, the common theme for many was seeing everyone after months apart and coming together to make beautiful music together. Another willing participant, Patty Rockafellow, a member of the choir since 1979, who also attended MCC on a musical scholarship, pointed out the focus on community during this time of the pandemic.
"The virtual choir was very important to bring people together who have been a community and have enjoyed each other's company," Rockafellow said.
The MCC Alma Mater, written by MCC emeriti faculty Vern Blake and Ken Smith, was used at the July MCC Commencement Ceremony. Vander Mark said the group hopes to gain permission to post the "Aquarius" video online on Facebook and on the MCC website. She also expressed her happiness with something positive coming out of a bad situation.
"We hope our camaraderie and common love for making music show through in these videos and prove that good things can come out of even some of the worst circumstances," she said.
Visit www.montcalm.edu/commencement to view the MCC Alma Mater video.