News
Wednesday, December 16, 2020
Going to college from your couch?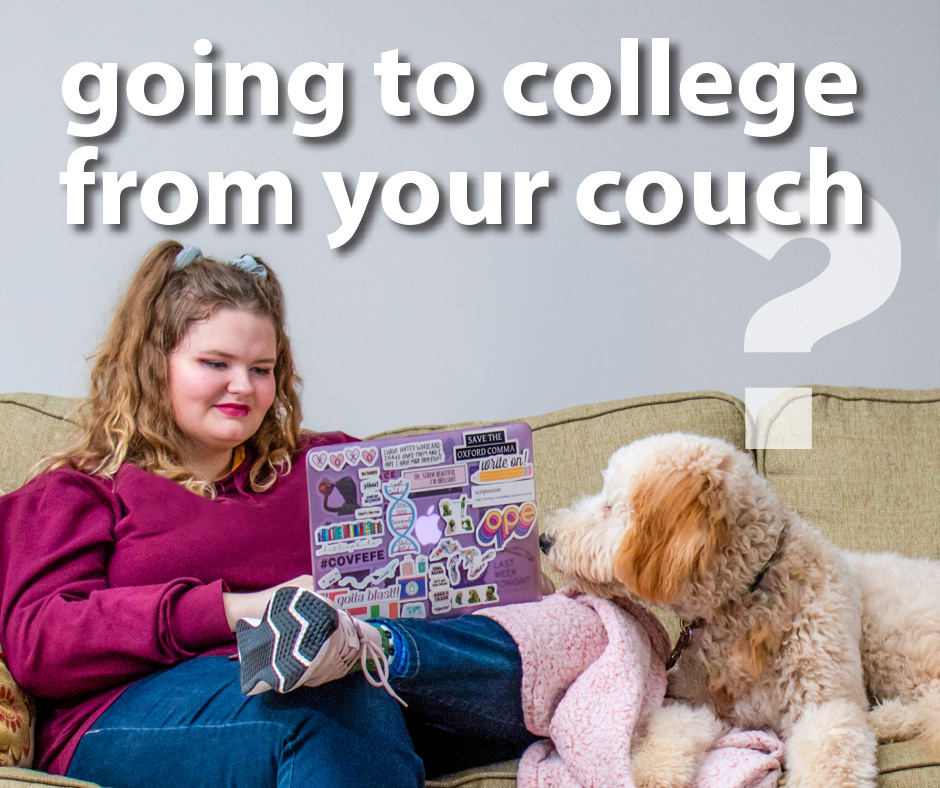 Check out your options for spring classes at Montcalm Community College
Did the university send you home to learn from your couch due to COVID-19?
If so, why not come back to Montcalm Community College to continue your education? We offer personalized learning, high-quality instruction and a variety of free support services such as tutoring, counseling and advising, Math and Writing Centers, career exploration and more.
You can learn as you like this spring at MCC, and your couch is an option. With more than 125 articulation agreements with other colleges and universities, our classes transfer to most institutions. Plus, our in-district tuition is a fraction of the cost of most universities.
Four formats offer a learning style for everyone, including in-person, online, hybrid and live online.
In-person offers the traditional classroom setting, where students and instructors meet face-to-face. Online classes are completely online, while hybrid is a combination of online and in-person. The newest version – live online – allows students to get an in-person instruction option from the comfort of another location through a real-time online presentation, similar to Zoom or a Teams meeting.
MCC President Dr. Stacy H. Young said although the future is uncertain due to COVID-19, one thing that is a given is that it's a great time to continue your education, and MCC is committed to continuing to deliver the highest quality instruction we can in formats to meet all student needs.
"Our instructors were prepared for our latest shift to online classes, and they will be prepared to return to the classroom in January or continue with online instruction if we are still in 'shut down' mode," Dr. Young said.
"We also understand that some students simply are not comfortable being on campus," she said, "Our live online classroom technology addresses this concern by allowing them to attend an in-person class from another location through an online option.
MCC Vice President for Academic Affairs Rob Spohr said the college is continuing to work to reduce barriers for students to attend classes this spring.
"For those enrolling in spring classes, MCC has waived GNST 115 – Effective Online Learning, which is typically required before a student may enroll in an online class," Spohr said.
"We are doing everything we can to support our students while offering the level of instruction they deserve," he added.
For a complete list of MCC's spring course offerings and a link to register, visit www.montcalm.edu/spring-2021. MCC's spring classes begin Jan. 16, unless otherwise noted. Registration is available now and will continue until spring classes begin.
Futures for Frontliners
Dec. 31 is the deadline to apply for the state's Futures for Frontliners program, which offers Michigan adults without college degrees or high school diplomas, who provided essential services from
April 1 through June 30, a tuition-free pathway to gaining the skills needed to obtain high-demand, high-wage careers.
MCC is serving as a Frontliners Champion to support the Futures for Frontliners program. People who worked in the medical field, manufacturing, nursing homes, grocery stores, sanitation, delivery, retail and more may qualify for this program.
To be eligible for the program, applicants must:
Be a Michigan resident.Have worked in an essential industry at least part-time for 11 of the 13 weeks between April 1 through June 30, 2020.
Have been required by their job to work outside the home at least some of the time between April 1 through June 30, 2020.
Not have previously earned an associate or bachelor's degree.Not be in default on a Federal student loan.
Complete a Futures for Frontliners scholarship application by 11:59 p.m., Dec. 31, 2020.
Visit montcalm.edu/frontliners for more information and a link to apply. Enrollment in classes is available beginning January 2021. For more information, Live Chat is available through MCC's website at montcalm.edu, email studentservices@montcalm.edu or call MCC's Student Services at (989) 328-1277