News
Tuesday, February 2, 2021
MCC's unveils its new strategic plan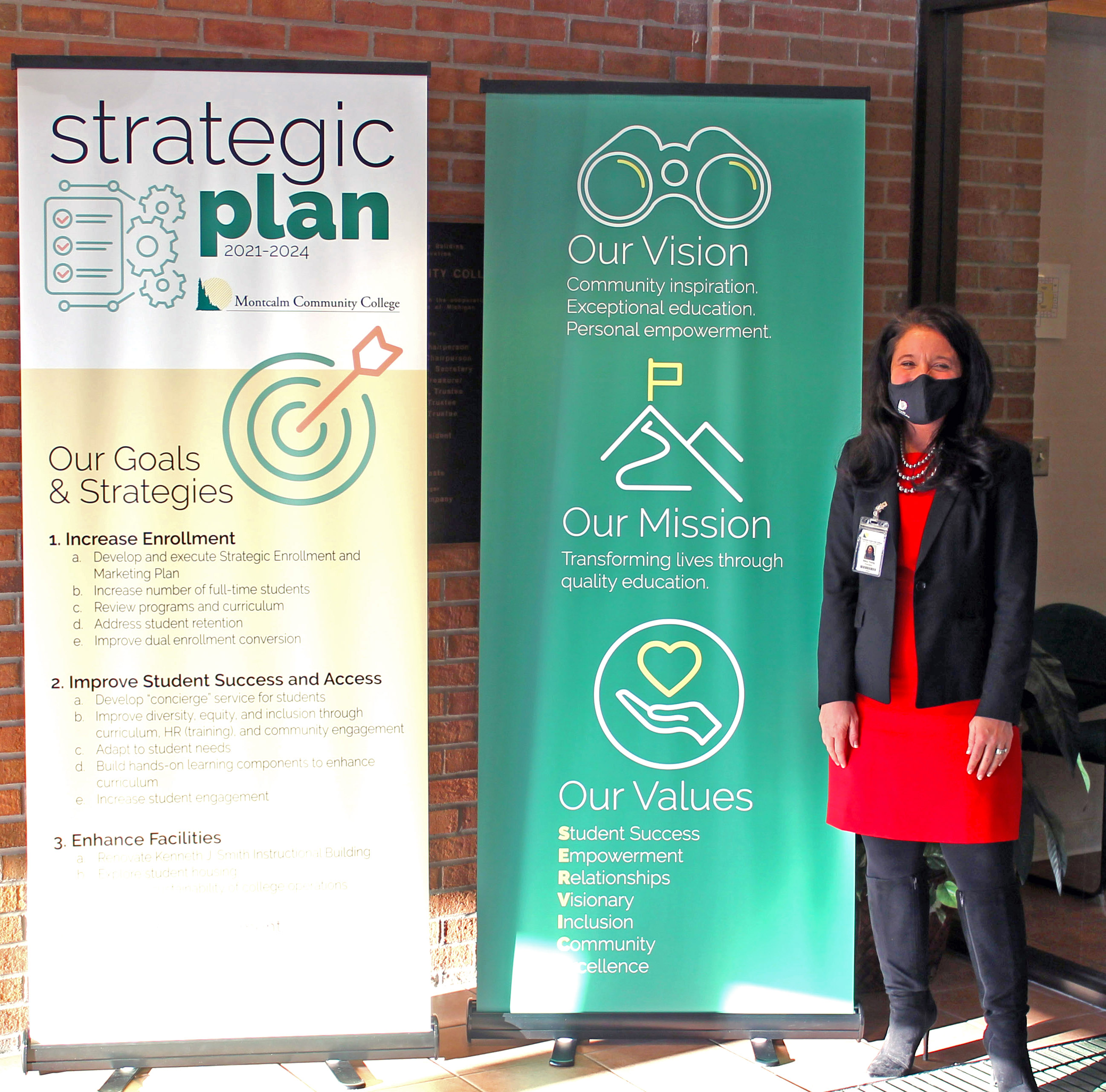 Montcalm Community College announced its new three-year strategic plan Feb. 1.
In developing the plan, a team comprised of both college and community representatives worked to identify outcomes of key importance to the college and outlined tactics to support those with measurable goals. These outcomes are based upon the vision, mission and values of the college.
"The strategic plan really sets the direction and priorities for the college," said MCC President Dr. Stacy H. Young. "It gives us all something to work toward so we're all on the same page. It guides us and helps us make decisions. It also reminds us of where we're headed."
Four key goals and strategies were determined to support the new mission of "Transforming lives through quality education," including increasing enrollment, improving student success and access, enhancing facilities and engaging the community.
"Enrollment and increasing enrollment is part of all of our jobs," Dr. Young said. "We can't do all of the other things we do without driving up enrollment.
"We will be reviewing and making sure our products are the products that people want," she said.
Another focus is on improving student success and access.
"We're working on developing a concierge service to support our students throughout their college journey. We are also focusing on improving diversity, equity and inclusion through curriculum, training and community engagement," she said.
The college also is embarking on a plan to enhance its facilities to continue to build capacity to serve its community of learners so it may continue to provide the level of education they deserve and expect.
The college's new values statement supports SERVICE – student success, empowerment, relationships, visionary, inclusion, community and excellence.
"We know a lot of us are doing a lot with community engagement already," Dr. Young said, "but we want to do more. So, we are challenging our employees and students to help us achieve 10,000 hours of volunteer service in our communities.
"We are here to support our communities. We believe we already have strong relationships, but we want to go from good to great," she said. For more information, visit montcalm.edu/strategic-plan.