News
Wednesday, May 19, 2021
'The Midnight Plan of the Repo Man' is the 2021 One Book One County Montcalm selection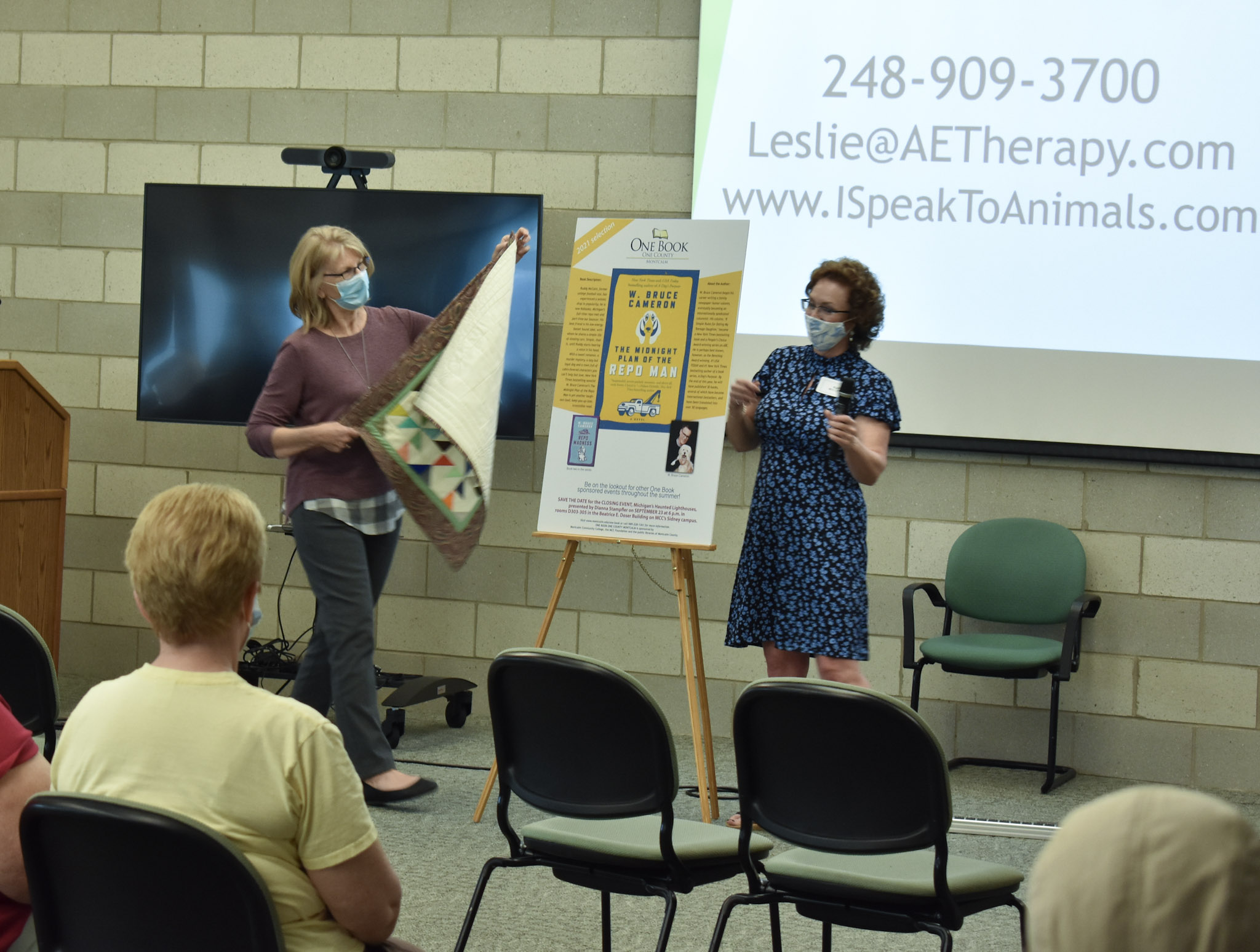 "The Midnight Plan of the Repo Man" by W. Bruce Cameron is the book everyone is reading as the 2021 One Book One County Montcalm selection.
The title was announced during the May 20 kickoff celebration at the Stanley and Blanche Ash Technology and Learning Center on Montcalm Community College's Greenville campus.
The story follows Ruddy McCann and his low-energy best friend, who happens to be a basset hound. The two live a simple life of stealing cars together, until one day Ruddy starts hearing a voice in his head.
"The Midnight Plan of the Repo Man" is a mix of romance, murder mystery, vividly drawn characters and a laid-back dog named Jake. Readers can continue the journey with the second book in the series titled "Repo Madness," and the short story, "The Midnight Dog of the Repo Man."
W. Bruce Cameron began his career writing a family newspaper humor column, eventually becoming an internationally syndicated columnist. His column, "8 Simple Rules for Dating My Teenage Daughter," became a New York Times bestselling book and a People's Choice Award-winning series on ABC. He is perhaps best known, however, as the Benchley Award-winning, #1 USA TODAY, and #1 New York Times bestselling author of a book series, A Dog's Purpose.
MCC Library Director Katie Arwood said the title's snappy dialogue, misadventures, and sassy characters remind her of books by Carl Hiaasen and Janet Evanovich.
"'The Midnight Plan of the Repo Man' takes readers to Kalkaska, Michigan, and the surrounding areas," she said. "The book is full of characters, some might say stereotyping Midwesterners, but I think the author has these people just right - smart, folksy, funny, honest, and they say many of the expressions I've heard my whole life. Reading this book made me feel like I was watching scenes unfold in a community I might be a part of. I love the main character, Ruddy, because he is so imperfect, accident prone, he has a past, doesn't always make good choices, and he has a heart of gold so he's always trying. I liked his lazy basset hound, his quest to do the right thing, and his efforts at romance. There's a bit of spice to this read! Readers who enjoy humor, mystery, and Michigan will have fun with this book."
Beth O' Grady, Carson City Public Library and Crystal Community Library Director, enjoyed the book just as much as Arwood. She said they decided this book was the right fit this year because it offers comic relief – something we all need.
"The story contains elements of crime, mystery, romance and the supernatural," O'Grady said. "The author is a popular writer, and the novel is set in Michigan!"
One Book One County Montcalm sponsored events include:
A Summer Celebration of Birds of Michigan – A three-program series.

"Wonderful Warblers and Other Migratory Birds" on June 10 at 12 noon in room D303 in the Beatrice E. Doser Building on MCC's Sidney campus.
Year-round Residents – "Michigan's Non-migrating Birds: Robins, Bluebirds, and More" on July 8 at 12 noon in the MCC Library in the lower level of the Donald C. Burns Administration/Library Building on the college's Sidney campus.
"Migrating Bi

rds – Fall Birding, Feeding, and Care" on Aug. 10 at 12 noon in room D303 in the Beatrice E. Doser Building on MCC's Sidney campus.

Learn about Michigan's Haunted Lighthouses with Dianna Stampfler during the One Book Closing program Sept. 23 at 6 p.m. at MCC's Sidney campus in rooms D303-305 in the Beatrice E. Doser Building on MCC's Sidney campus. Stampfler will be available for book signings. Refreshments will be provided.
One Book One County Montcalm is sponsored by MCC, the MCC Foundation and the public libraries of Montcalm County. For more information, visit montcalm.edu/one-book or call the MCC Library at 989-328-1261.