News
Thursday, April 28, 2022
MCC's Commencement is May 6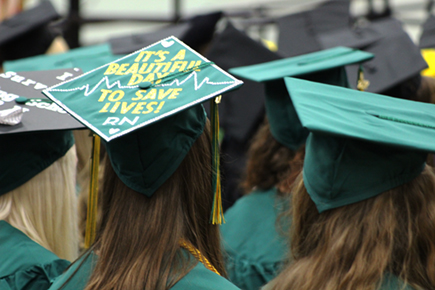 Brad Krause, founder of Service Professor Inc., and Montcalm Community College student Megan Martin will address graduates and their guests during MCC's 55th Annual Commencement ceremony on May 6.
The ceremony will begin at 7 p.m. in the gymnasium in the Activities Building on the college's Sidney campus. Doors will open at 6 p.m. A nursing pinning ceremony to recognize the college's 25 graduating nursing students will be May 5 at 7 p.m. in the gymnasium.
As founder of Service Professor Inc., a home services provider of Plumbing, heating, cooling, electrical, duct cleaning, drains/sewer in West and Southwest Michigan, Krause is a Master Electrician himself. He is a 1998 graduate of Greenville High School and earned a Small Business Management/Development degree from MCC in 2003.
Krause often expresses how blessed he is to be part of a company that continues to experience rapid growth through the professionalism displayed by each and every teammate.
Service Professor has experienced more than 40 percent growth each of the past five years, landing on the Inc. 5000 fastest growing companies list seven of the last eight years, and is currently pacing to reach $35 million in sales in 2022.
Krause has also been a Master Trainer/speaker for Nexstar Network since 2013, taking his customer service message across the country to help businesses similar to Service Professor. To date, he has helped nearly 10,000 owners and service technicians realize the best version of themselves through keynote speaking and training.
When he is not leading Service Professor or training for Nexstar, he is focused on his most important passion, his family. He is married to his wife of 17 years, Jennifer. They have four children: Tucker, 14; Cambree, 12; Griffin, 7; and Hazel, 4. The youngest, Hazel, was adopted in January 2021. He finds no more enjoyment than coaching his children in every sport that they participate in, hunting  with them and taking them to every sporting event possible. He also enjoys staying fit and the great outdoors. 
Krause, active in his church, strives to live daily with a servant mentality. He has been part of the Nexstar Explore the Trades program, and is a former committee member of Troops to Trade program that focused on bringing our veterans into the trades. He recently launched an academy focusing on bringing more people to the trades, Service Professor Trades Academy. He has also been a big brother through the Big Brothers, Big Sisters program to Travis Harvey for the last nine years. Harvey is a freshman at Grand Valley State University.
Martin, of Goshen, Ind., will be representing MCC's class of 2022 as the student speaker during Commencement. She is graduating with an Associate of Science and Arts degree with high honors from MCC.
Martin is 19 years old and a recent graduate of Northridge High School in Middlebury, Ind. There, she also received high honors and was in the top 10 percent of her class. The COVID-19 pandemic proved to be an opportunity for Martin, and she was able to begin her college at MCC online, while still in high school.
She has worked very hard over the last couple of years to get ahead and reach her dreams. Along with graduating and taking classes at MCC this spring, Martin is also enrolled at Ferris State University. There, she is studying business administration and accounting and is expected to graduate with her bachelor's degree next spring. Immediately following, Martin intends to pursue a Master of Business Administration degree from Butler University and obtain her real-estate license. She looks forward to the future and a career in business.
Martin is grateful and excited about the opportunity to speak during MCC's Commencement and hopes her words will inspire others and express her gratitude for the college.
In addition to recognizing the college's candidates for degrees and certificates during the ceremony, the Leslie K. Morford Faculty Recognition Award and Outstanding Adjunct Faculty Award, as well as the college's Distinguished Alumni Award will be presented.
Visit montcalm.edu/events for a link to view the ceremony virtually through YouTube or Facebook.
Media contact:
Shelly Springborn
Director of Communications and Public Relations
shellys@montcalm.edu
989-560-0833