News
Tuesday, May 24, 2022
'The Book Woman of Troublesome Creek' is the 2022 One Book One County Montcalm selection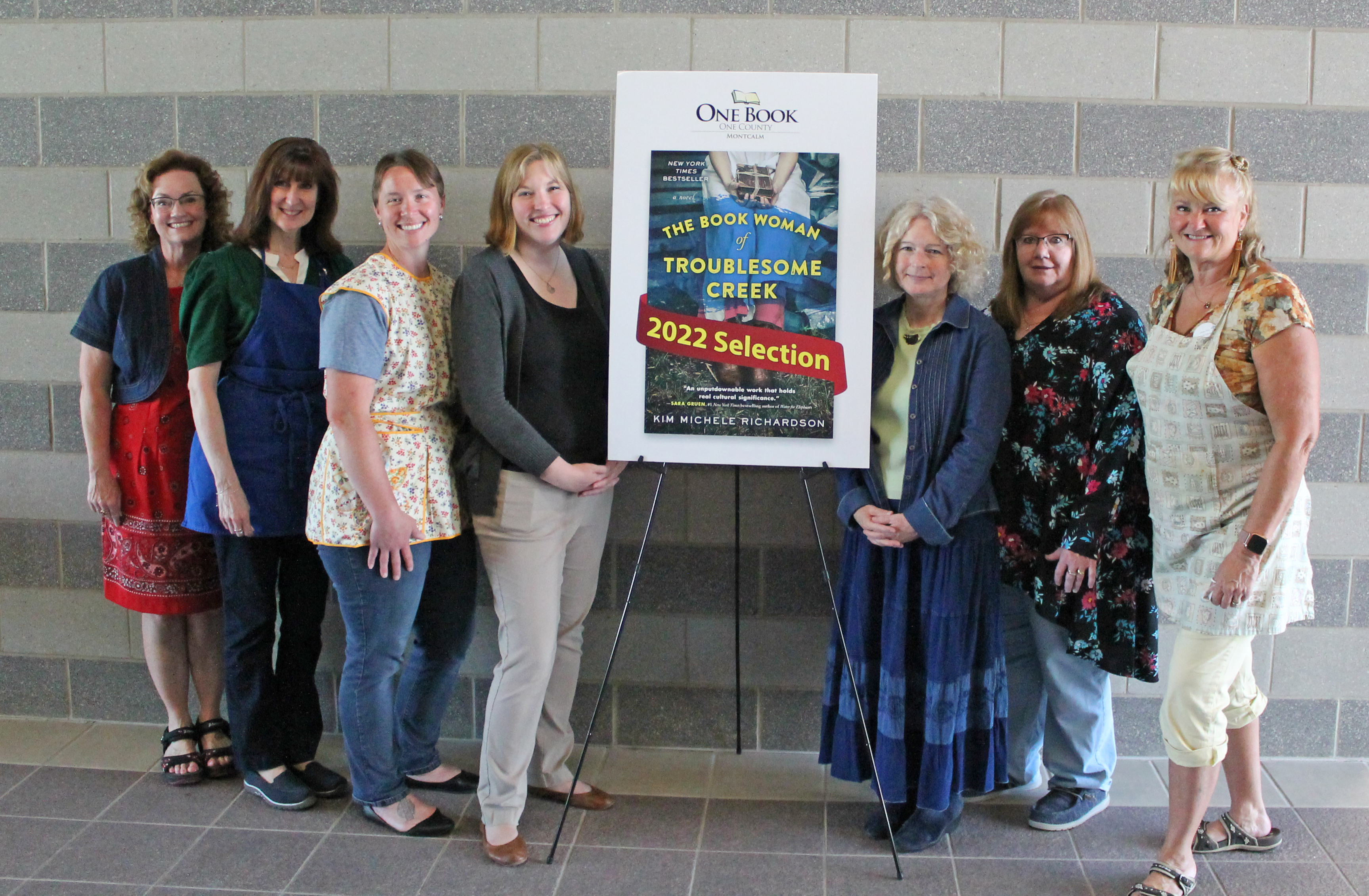 Pictured, from left, are Montcalm Community College Library Director Katie Arwood, Home Township Library Director Jonelle Ball, Tamarack District Library Director Deanna Riggleman, Flat River Community Library Director Stefanie Reed, Carson City Public Library Director Beth O'Grady, Timothy C. Hauenstein Reynolds Township Library Director Cheryl Smith and White Pine District Library Director Patty Rockafellow.
"The Book Woman of Troublesome Creek" by Kim Michele Richardson is the book everyone will be reading as the 2022 One Book One County (OBOC) Montcalm selection. 
The title was announced during a May 24 kickoff celebration at the Stanley and Blanche Ash Technology and Learning Center on Montcalm Community College's Greenville campus. During the kickoff, attendees were treated to an interactive presentation about food from a bygone era by MCC-MSU Agriculture Program Coordinator Brian Gardner, who made buckwheat pancakes for all to enjoy.
The New York Times bestselling novel follows Cussy Mary Carter's life as a packhorse librarian in Kentucky during the 1930s. Despite the difficulties many faced at this point in American history, Cussy Mary faced a challenge that most people didn't – she had blue skin.  
Inspired by the blue-skinned people of Kentucky and the brave and dedicated Kentucky Pack Horse library service of the 1930s, "The Book Woman of Troublesome Creek" is a story of raw courage, fierce strength, and one woman's belief that books can carry us anywhere—even back home. 
Jennifer VanderSlik, an MCC English Instructor and Writing Center Consultant was thrilled to hear that "The Book Woman of Troublesome Creek" was this year's selection. 
"As a book lover and someone interested in history, 'The Book Woman of Troublesome Creek' immediately drew me in. However, it was the masterful writing, an endearing and powerful main character in Cussy Mary Carter, and connections to important current topics such as bullying, discrimination, poverty, and the power of books and education to transform lives that kept me hooked. In fact, I loved my experience reading this book so much, I jumped at the chance to read the newly released sequel, 'The Book Woman's Daughter.'" 
To celebrate and dive into the details of "The Book Woman of Troublesome Creek," the MCC library will be hosting two other events.  
"I am looking forward to welcoming guests to the church in Heritage Village, a gem in our county, for our mid-way One Book event: Riding the Circuit in Montcalm County with Rev. Steve Charnley. Steve is a treasured friend to many in Montcalm County and he always embodies the characters he portrays with warmth and authenticity," explained MCC Library Director, Katie Arwood. 
Arwood is also excited for the One Book closing event that is being presented by the Eicher brothers who many readers may remember from their Orphan Train presentation in 2015. 
"They'll be sharing their presentation titled When Amelia Came to Michigan. The presentation examines Amelia Earhart's many adventures in Michigan in the 1930s and allows us to hear about a strong female pushing boundaries, a lot like Cussy in The Book Woman of Troublesome Creek." 
Libraries across Montcalm County will be hosting book discussions throughout June, July and August at their respective branches, and everyone is encouraged to attend more than one. To view the book discussion dates and other OBOC events, visit montcalm.edu/one-book. 
One Book One County Montcalm sponsored events include: 
Riding the Circuit in Montcalm County presented by Rev. Steve Charnley on July 13 at 6 p.m. in the Heritage Village Church on MCC's Sidney campus.

 
When Amelia Came to Michigan presented by Al and Dave Eicher on Sept. 20 at 6 p.m. in rooms D303-305 in the Beatrice E. Doser Building on MCC's Sidney campus. 

 
One Book One County Montcalm is sponsored by MCC, the MCC Foundation and the public libraries of Montcalm County. 
For more information, visit www.montcalm.edu/one-book or call the MCC Library at 989-328-1261.