News
Wednesday, July 27, 2022
35th Annual Heritage Festival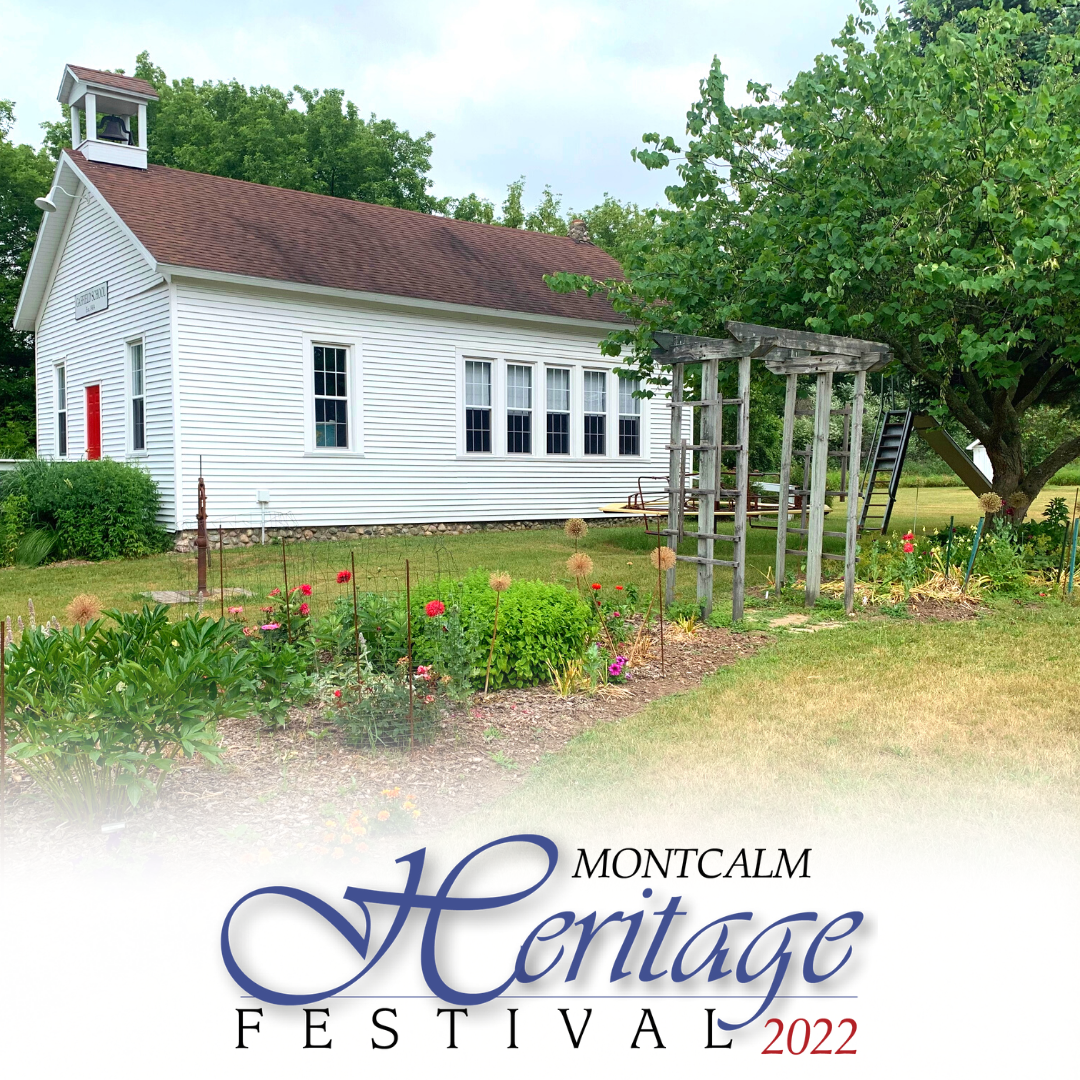 Story written by Lori Hansen
Longtime volunteer Flora Phelps will be honored for her 100th birthday on Seniors Day during the 35th annual Heritage Festival, Aug. 4-6 at Heritage Village on Montcalm Community College's Sidney campus.
The three-day festival highlights Thursday as Honoring Seniors, with the Montcalm County Commission on Aging providing free lunch for senior citizens. Friday is Children's Day, with special activities such as make and take crafts, children's activities and free pony rides. Saturday is a "Salute to Veterans" with a presentation at the gazebo at 11:30 a.m.
After a hiatus due to the COVID pandemic, school will be back in session with children playing the role of students in the historic Gaffield Schoolhouse under the instruction of Jamie Hansen-Hopkins. The school reenactments will be from 10 a.m. to 1 p.m. daily.
The opening ceremony will take place at 10 a.m. on Thursday, Aug. 4, at the bandstand/gazebo, with the buildings officially opening for self-guided tours after the ceremony.
Following the opening ceremony, the Montcalm County Commission on Aging Senior Fest will have special events for the senior members of the community including lunch, raffle drawings, door prizes, and free blood pressure checks sponsored by Mission Point of Greenville.
Friday's activities shift to the younger generation with special activities for children, including a cake walk, crafts, a scavenger hunt, games, prizes and free pony rides.
The last day of the festival is Saturday, Aug. 6, and it is a day to honor veterans including a special salute to veterans at 11:30 a.m. at the gazebo.
The day begins with the MCC Foundation pancake breakfast from 8 to 10 a.m. outside the Activities Building. Tickets are $5 in advance or $6 at the door. Proceeds from the breakfast support MCC scholarships. For advance tickets, contact MCC Foundation Executive Director Lisa Lund at 989-328-1284 or lisal@montcalm.edu. Visit www.montcalm.edu/heritage-festival for more information.
A vintage Base Ball tournament will be on MCC's south lawn and the Heritage Village's east lawn. Games begin at 9 a.m. and run through 2:30 p.m.
An old-fashioned patriotic church service begins at 2 p.m. at the Heritage Village Church and the Garden tour presented by the Montcalm Area Master Gardeners begins at 1 p.m.
In addition, there will be a petting zoo all day.
During all three days of the festival, "Montcalm County's Lost, Forgotten & Unforgettable Places" will be presented by Dana Johnson at the Township Hall from 1 to 2 p.m. daily, and self-guided tours of all Heritage Village buildings with docents available to provide information and answer questions will be from 10 a.m. to 4 p.m. each day.
A variety of vendors, including new vendors, will offer candles, macrame, kettle corn and more, according to Heritage Village Association President Shannon Neumann Kilduff. In addition, several activities and displays are available all three days, including historical displays in the village buildings, live entertainment at the gazebo, a quilt show, children's activities, cake walks, crafts for sale, an ice cream parlor and dairy equipment display, antique small engine displays, print shop displays and more.
The festival is offered by the Montcalm Heritage Village Volunteers, a group of community members that works year-round in the historical Heritage Village on the college's Sidney campus; MCC; and the MCC Foundation. Montcalm Heritage Village was established in 1986 on MCC's campus and has grown to include 28 buildings and hundreds of artifacts from local areas depicting life in Michigan in the late 1800s and early 1900s.
The festival runs from 10 a.m. to 4 p.m. daily. All events are free unless otherwise noted.
For a complete schedule of events or more information about Montcalm Heritage Village, visit montcalm.edu/heritage-festival.
Festival Schedule
All Three Days:
Arts and Crafts – Craft Lane
Bandstand/Gazebo – Music and entertainment
Belle's Hat Shoppe – Historic displays
Blacksmith Shop – Open for display
Cake Walks – 1 p.m. at the Children's Playhouse
Children's Scavenger Hunt – Village-wide
Children's Playhouse – Open for display and activities
Civil War Encampment – Demonstrations and exhibits on the north lawn
Doctor's House – Open for display
Edmore Jail – Open for display
Ehle Barn – Antique farm equipment and small engines
Gaffield Schoolhouse – Country School reenactments 10 a.m. - 1 p.m. daily
Golf Cart Rides – Compliments of Fry's Golf Carts, Carson City
Maintenance of Way – Display of a Railroad Speeder and equipment
Montcalm Area Master Gardeners – Plant Sale (Please note: Limited number of plants for sale.)
McBrides Depot – Steam engine, coal car and caboose on display
Old Iron Tractor Club – Display of antique tractors and a steam engine on the east lawn
Pavilion – Village Country Kitchen sells sandwiches, chips, pie, cookies and beverages provided by the Stanton Women's Club
Print Shop – Open for display with White Pine District Library displays
Rush Dairy – Ice cream parlor with ice cream for sale and dairy equipment
Shoen Log Cabin – Historic displays and spinning demonstrations
Sidney General Store – Bake sale, candy and pickles for sale and historic displays
Sidney Town Hall – County and township historic displays
Steam Engine – Display and demonstration of a steam engine by Dave Kemler on the east lawn
Tent on the Green – Quilt Show
Tool Shed – Farm tool displays and antique sleigh
Village Church – Open for display
Thursday, Aug. 4 – Honoring Seniors Day
10 a.m. - Festival opening, Bandstand/Gazebo. Buildings will open after the Festival Opening Ceremony
10 a.m. to 2 p.m. – Montcalm County Commission on Aging Senior Fest
Special events for senior citizens include lunch, drawings, door prizes, free blood pressure checks (sponsored by Metron of Greenville) and a scavenger hunt – Heritage Village
10 a.m. to 4 p.m. – Children's activities, crafts, games and prizes – Children's Playhouse
1 p.m. Children's cake walk – Children's Playhouse
10 a.m. to 4 p.m. Quilt Show – Tent on the Green
10 a.m. to 4 p.m. – Self-guided tours of all Heritage Village buildings with docents available to provide information and answer questions
10:30 a.m. to 4 p.m. Entertainment – Bandstand/Gazebo
1 to 2 p.m. Montcalm County's Lost, Forgotten & Unforgettable Places, presented by Dana Johnson –Township Hall
Friday, Aug. 5 – Children's Day
10 a.m. to 4 p.m. Children's activities, crafts, games and prizes – Children's Playhouse
1 p.m. Children's cake walk – Children's Playhouse
10 a.m. to 4 p.m. Pony Rides – Heritage Village grounds
12 noon to 4 p.m. Entertainment – Bandstand/Gazebo

12 to 1 p.m. – Boys from Amsden
1:30 to 2:30 p.m. – Fish Creek Boys
3 to 4 p.m. – Gorby Family Band

10 a.m. to 4 p.m. Quilt Show – Tent on the Green
10 a.m. to 4 p.m. – Self-guided tours of all Heritage Village buildings with docents available to provide information and answer questions
1 to 2 p.m. Montcalm County's Lost, Forgotten & Unforgettable Places, presented by Dana Johnson – Township Hall
Saturday, Aug. 6 – "Salute to Veterans" Day
8 to 10 a.m. Montcalm Community College Foundation Breakfast – Activities Building
9 a.m. to 2:30 p.m. Vintage Base Ball – MCC South Lawn and Heritage Village East Lawn
10 a.m. to 4 p.m. Children's activities, crafts, games and prizes – Children's Playhouse
12 noon to 4 p.m. Entertainment – Bandstand/Gazebo

12 to 1 p.m. – Keith Hudson Band
1:30 to 2:30 p.m. – Hubbardston Irish Dancers
3 to 4 p.m. – Fred and Friends

10 a.m. to 4 p.m. – Petting Zoo – Heritage Village grounds
10 a.m. to 4 p.m. – Self-guided tours of all Heritage Village buildings with docents available to provide information and answer questions
10 a.m. to 4 p.m. – Quilt Show – Tent on the Green
11:30 a.m. to 1 p.m. – Salute to Veterans – Bandstand/Gazebo
1 p.m. – Garden tour presented by the Montcalm Area Master Gardeners
1 p.m. – Children's cake walk – Children's Playhouse
1 to 2 p.m. – Montcalm County's Lost, Forgotten & Unforgettable Places, presented by Dana Johnson – Township Hall
2 p.m. – Old-fashioned patriotic church service – Heritage Village Church
Media contact:
Shelly Springborn
Director of Communications and Public Relations
shellys@montcalm.edu
989-560-0833