Futures for Frontliners
Futures for Frontliners offers Michiganders who worked in essential industries during the April 1-June 30 period but do not have a college degree free tuition to their local community college to pursue an associate degree or a skills certificate on a full-time or part-time basis while they continue to work. Those without a high school diploma or equivalency are eligible for services to help them prepare for and complete this credential and go on to a community college or job training program. The application period runs through December 31 of this year with enrollment available beginning in January of 2021.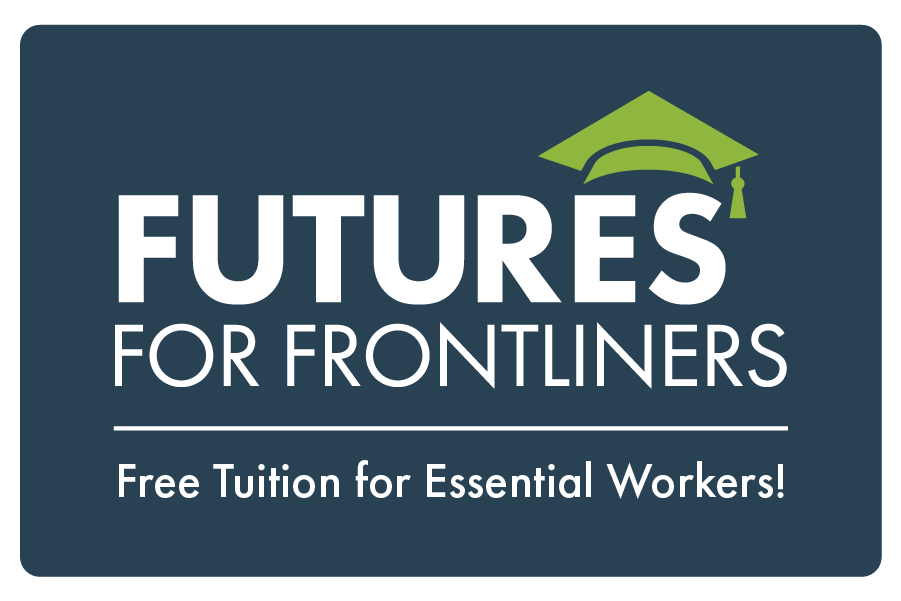 Eligibility
All essential workers in Michigan without a college degree or high school equivalency who worked at the height of the COVID-19 crisis are eligible to apply for Future for Frontliners. 
Applicants must:
Be a Michigan resident
Have a high school diploma or equivalent (ex: GED)
Have worked in an essential industry at least part-time for 11 of the 13 weeks between April 1 – June 30, 2020
Have been required by their job to work outside the home at least some of the time between April 1 – June 30, 2020
Not have previously earned an associate or bachelor's degree
Not be in default on a Federal student loan
Complete a Futures for Frontliners scholarship application by 11:59 pm on December 31, 2020
Eligible workers include:
Hospital and nursing staff

Grocery store employee

Childcare providers serving critical infrastructure workers

Personal protective equipment manufacturers

Public safety employees

Garbage collection workers

Delivery drivers
How to Apply
Frontliners returning or applying for community college can apply online starting Sept. 10 at Michigan.gov/frontliners.
Frontliners interested in pursuing their high school completion first, or while dual enrolled in community college, may apply online starting Sept. 10 at Michigan.gov.frontliners. 
Apply NowThe Futures for Frontliners application will take less than 10 minutes to complete. Applications for the program must be submitted no later than December 31, 2020. 
Starting Classes
Frontliners returning to or starting community college, or seeking their high school diploma or equivalency, may start classes anytime in 2021 and as early as the winter semester beginning January 2021. Frontliners can pursue up to an associate degree or skills certificate at their local community college tuition-free. Frontliners can prepare for and attain a high school diploma or equivalency, potentially prior to enrollment in post-secondary education or training, or while dual enrolled.