News
Thursday, July 29, 2021
Heritage Festival: Where history is more than a picture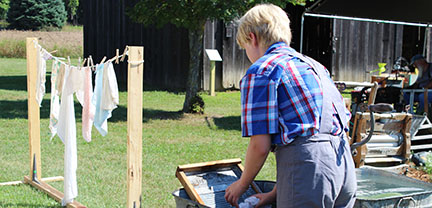 The Heritage Festival is back for its 34th year on Montcalm Community College's Sidney campus, Aug. 5-7, and the Heritage Village volunteers are ready to once again transport visitors back in time.
After last year's festival was cancelled due to COVID-19, the village committee is ecstatic to welcome visitors back to the village grounds with all the classic activities offered in years past.
"We're so glad to be back with Heritage Festival 2021, where all can slow their steps and enjoy a walk back in time," said Miriam Zimmerman, Vice President of the Montcalm Heritage Village volunteer group.
The opening ceremony will take place on Thursday, Aug. 5, at 10 a.m. at the gazebo. Following the ceremony, the Montcalm County Commission on Aging Senior Fest will take place until 2 p.m. Special events include lunch, drawings, door prizes, and free blood pressure checks sponsored by Metron of Greenville. Golf carts will be available to transport two visitors at a time from the parking area.
Friday, Aug. 6, is Children's Day, so pack up the family for a free day of learning and fun! There will be pony rides, a cake walk, scavenger hunt, old-fashioned games, and new this year, a petting zoo. Stop by the pavilion for sandwiches, chips, and drinks provided by the Stanton Women's Club and then head over to Rush Dairy for some ice cream.
The last day of festival is Saturday, Aug. 7, and it is a day to honor veterans. At 11:30 a.m., there will be a special salute to veterans at the gazebo.
Vintage base ball returns to the festival on Aug. 7 at 9 a.m. on MCC's south and east lawns. Six club teams will be competing this year in the classic game. Fans are invited to bring their chairs and watch the games for free. If you're looking for something to snack on while watching, swing by the general store for homemade baked goods, candy and dill pickles.
Several activities and displays are available all three days, including historical displays in the village buildings, live entertainment at the gazebo, a quilt show, children's activities, cake walks, a Civil War encampment, crafts for sale, an ice cream parlor and dairy equipment display, antique small engine displays, print shop displays and more.
The festival is offered by the Montcalm Heritage Village Volunteers, a group of community members that works year-round in the historical Heritage Village on the college's Sidney campus; MCC; and the MCC Foundation. Montcalm Heritage Village was established in 1986 on MCC's campus and has grown to include 28 buildings and hundreds of artifacts from local areas depicting life in Michigan in the late 1800s and early 1900s.
The festival runs from 10 a.m. to 4 p.m. daily. All events are free unless otherwise noted.
For a complete schedule of events or or more information about Montcalm Heritage Village, visit montcalm.edu/heritage-festival.