News
Wednesday, November 16, 2022
MCC Ag Club supports families with Thanksgiving food baskets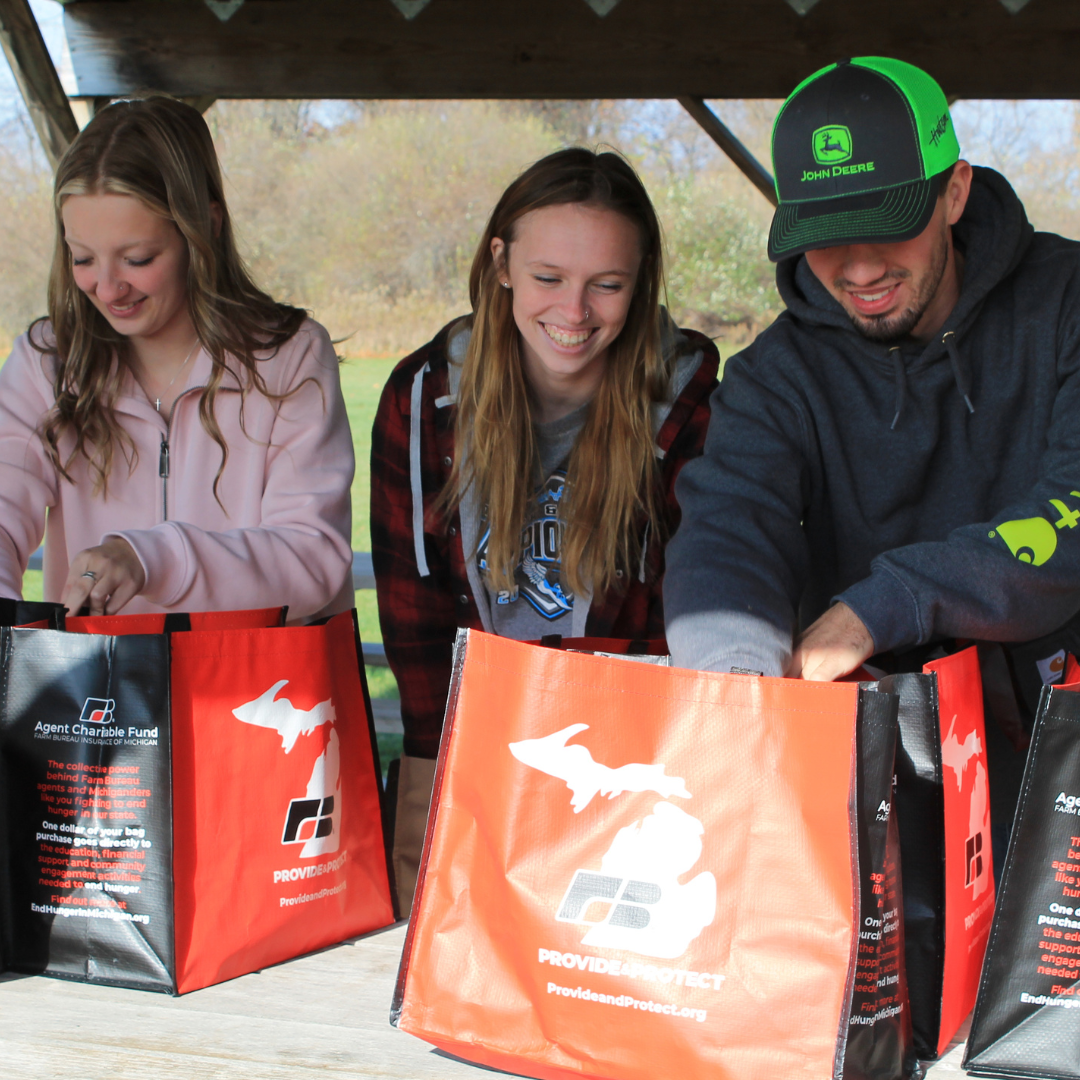 By Renae Gould, MCC Communications Specialist
For the third year, Montcalm Community College's Ag Club put together 25 Thanksgiving baskets for underserved students in the area.
The Ag Club got help from the MCC Express Conductor program to identify students who would benefit from this holiday giving project. MCC Express supports student success by partnering students with a conductor to answer their questions and help them every step of the way while they are an MCC student.
"I like the idea of giving back to the families in need," said Ag Club President Jeff Marek, of Howard City. "I enjoy what we do, especially when we give back to the community."
MCC Express Conductor Amanda Glaza said the Conductors reached out to students to let them know about the food baskets.
"As students responded that they would be interested in receiving a basket, we shared their information with the Ag Club," she said.
Members of the Ag Club learned what it took to grow their own crops and had their own set of challenges.
"I like the part where we all came together and decided how we were going to get produce, despite the issues we had growing our own," said Tanner Carr, of Lakeview.
Many of the Ag Club students said giving back to the community is why they got involved with the project.
"It has taught me to be unselfish and give back to others," said Dylan Knauf, of Cedar Springs.
"It taught me a lot about getting involved on campus and in the community," Laura Storey, of Remus, said.
Marek said a big lesson the club learned was about teamwork. They all had to work together to try and grow their own crops in the greenhouse. They planted seeds twice, which didn't turn out so well, but they were able to grow radishes.
Biology and Animal Science instructor Michelle Gibson, Ph.D., Brian Gardner, Michigan State University (MSU) Institute of Agricultural Technology (IAT) program coordinator for MCC, and Dan Rossman, Agriculture instructor, are co-advisors for the club.
Dr. Gibson said the Ag Club members determined how they wanted to structure the project and who would benefit.
"The students decided they wanted to donate the food baskets to other students in need," Gibson said.
She said trying to grow their own crops was a great learning experience for the Ag Club. They learned what works and what doesn't work.
The Ag Club purchased 25 chickens from the Montcalm Area Career Center Agriscience Program. Pumpkins, squash, and onions came from Ag Club member Margaret Haight who has a farm in Greenville where she focuses on raising crops to sell at several local farmers markets.  Bags were donated by Michigan Farm Bureau and Merry Kim Meyers. Potatoes were donated by the Michigan State University Montcalm Research Center when the students in AGRI 113, Applied Plant Science and Production, visited the farm on a field trip. The Ag Club also purchased chicken stock to add to each basket.
Gardner said the project is all about service learning and engaging in an activity to have positive impacts in the community.
"This project does a couple things," Gardner said. "It helps our club members understand some of their MCC peers come from very different economic backgrounds. This class loves this opportunity each year and it helps bond our students together."
Media contact:
Shelly Springborn
Director of Communications and Public Relations
shellys@montcalm.edu
989-560-0833