News
Saturday, May 7, 2022
MCC recognizes two instructors for their achievements (1)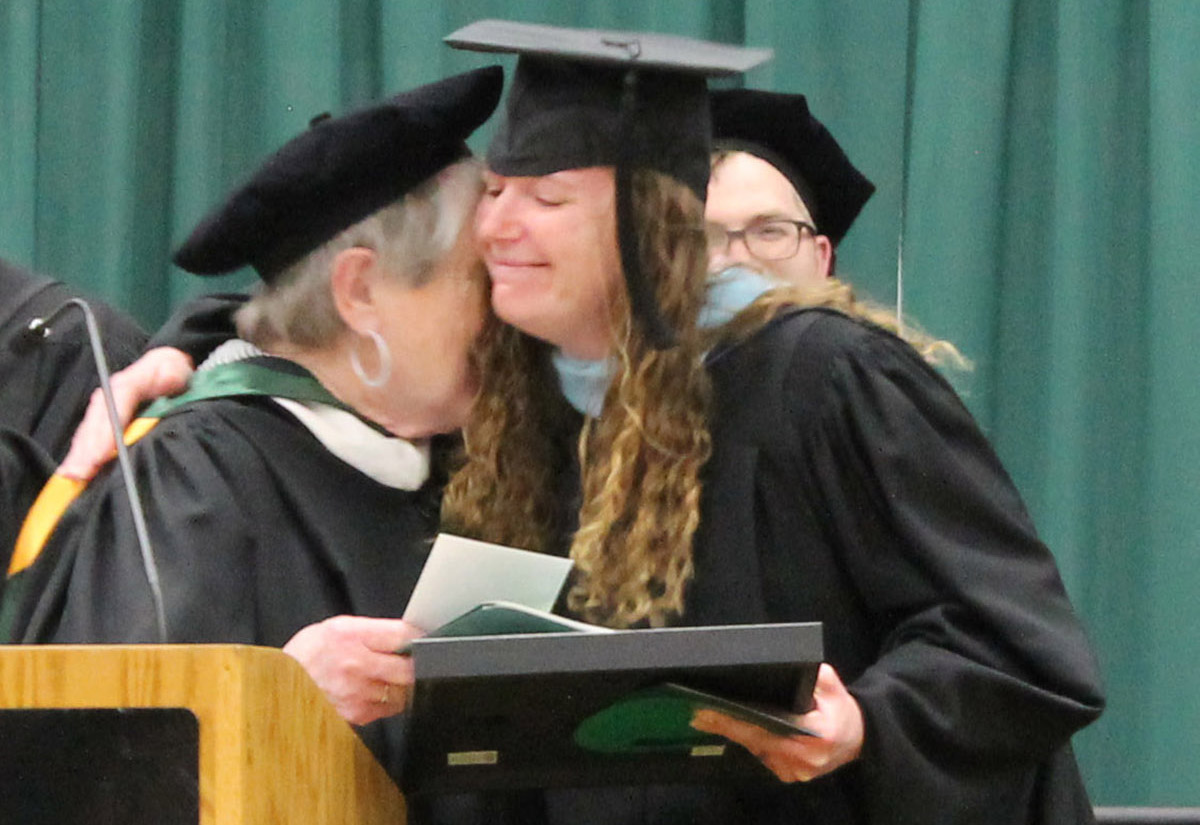 Two Montcalm Community College instructors were honored during the college's 55th Annual Commencement ceremony on May 6 on the college's Sidney campus.
Vice President for Academic Affairs Rob Spohr presented awards to one full-time and one part-time faculty member in recognition of their noteworthy work with and on behalf of students, scholarly or professional achievement and service to MCC.
The Leslie K. Morford Faculty Recognition Award, named for MCC emeritus instructor Morford, was presented to Mathematics Instructor Brianne Lodholtz, of Sheridan. Part-time History Instructor Andrea Puskas, of Cedar Springs, received the Outstanding Adjunct Faculty Award. The recipients were given a plaque, a stipend and a citation.
Lodholtz joined MCC in August 2011 as a full-time Mathematics Instructor, after serving as a temporary math instructor from 2007 through 2008. She also is a Mathematics Department Chair.
In their nominations, many of her students expressed their difficulties learning math and they overwhelmingly recognized her for her kindness, compassion and knowledge, saying she is an absolutely amazing math teacher. They said she is funny, uplifting and always there to help when they need her.
One student said, "She has amazing talents for getting people to understand anything."
Another added, "She knows her stuff and is more than willing to share her knowledge even after class has ended."
"She is one of the best instructors at MCC," another student said. "She helps make math fun and she really cares for her students."
Lodholtz has earned degrees from Montcalm Community College, Central Michigan University, Grand Valley State University and Grand Rapids Community College.
Puskas started as an adjunct history instructor at MCC in 2019, and she channels her energy and enthusiasm to make history more than an everyday lecture. Her passion for history is evident in the comments from her students.
She is recognized by her students as being "a greatly influential instructor who provides the best opportunities for learning. They say she is a fun person to be around and continuously works to improve her teaching style to accommodate the learning styles of all of her students.
"Andrea makes history fun! She's pretty cool, and she's very interactive with students," another student said.
Puskas has earned degrees from Montcalm Community College and Central Michigan University.