News
Wednesday, May 10, 2023
MCC recognizes two instructors for their achievements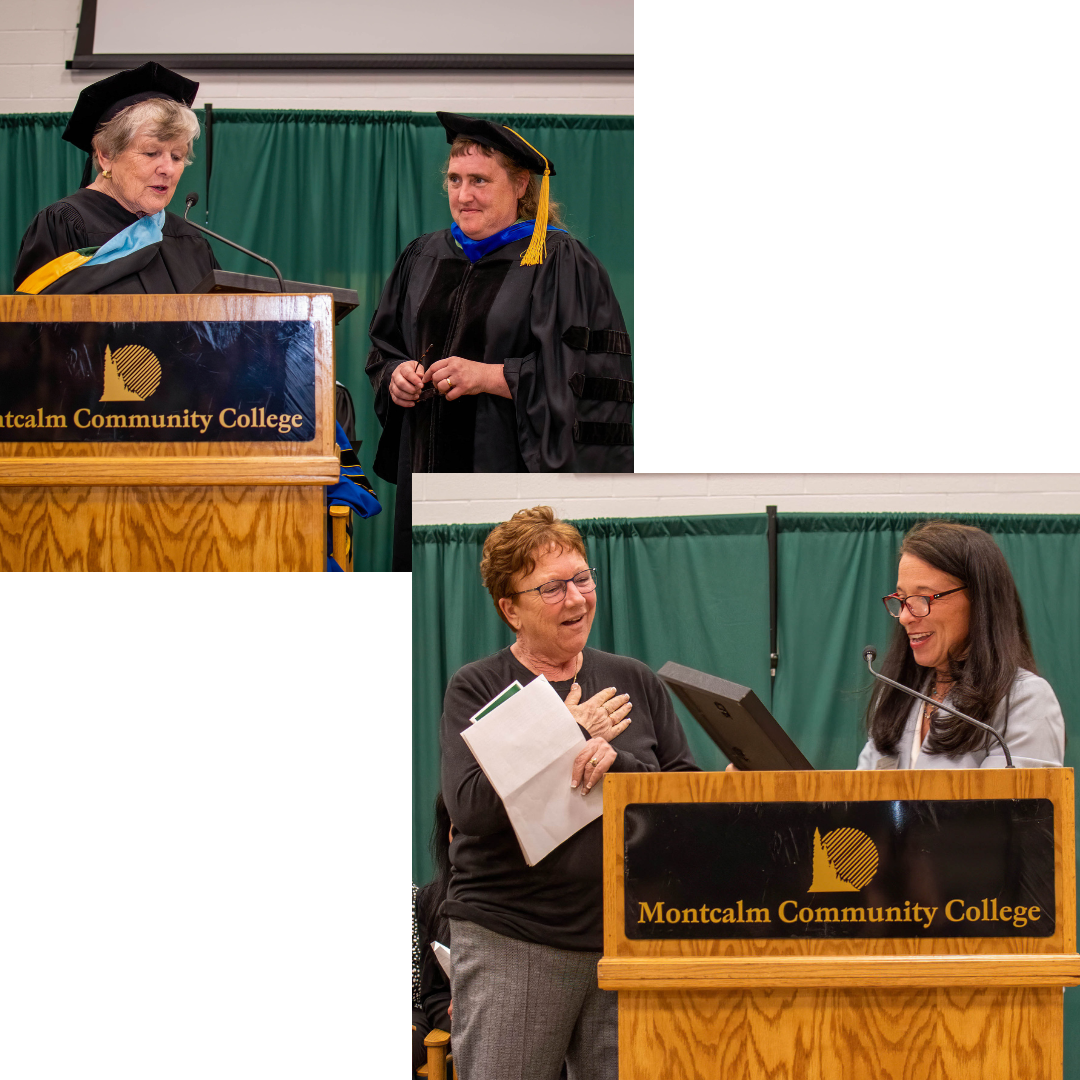 Two Montcalm Community College instructors were recognized during the college's 56th Annual Commencement ceremony on May 5 on the college's Sidney campus.
Board of Trustees Chair Karen Carbonelli recognized the award recipients, given to one full-time and one part-time faculty member in recognition of their noteworthy work with and on behalf of students, scholarly or professional achievement and service to MCC.
The Leslie K. Morford Faculty Recognition Award, named for MCC emeritus instructor Morford, was presented to Biology Instructor Dr. Michelle Gibson, of Greenville. Part-time Nursing Instructor Nancy Seals, of Carson City, received the Outstanding Adjunct Faculty Award during the Nursing Pinning Ceremony on May 4 at MCC. The recipients were given a plaque, a stipend and a citation.
Dr. Gibson joined MCC in 1999 as a full-time Biology Instructor.
Her students overwhelmingly expressed that she is an "awesome instructor" who is knowledgeable, approachable and humble. They recognize her for her calm and kind demeanor and for presenting information in multiple ways to engage different learning styles.
One student says, "How can anyone not love Dr. Gibson? She is amazing at teaching and her passion is this school. She has helped so many students!"
"I have had Michelle for multiple classes and she is always giving 110% to her students. She is kind, genuine, funny, and intelligent. She's the best teacher I've ever had!" another student states.
Dr. Gibson graduated from Northern Michigan University with a Bachelor of Science in microbiology with minors in chemistry and physics. She went on to receive a Master of Science then a Ph.D. from Michigan State University, both in Animal Science.
Seals joined MCC in 2018 and serves as an Adjunct Nursing Instructor.
She is described as a great listener who is passionate and patient in her teaching style, and that is evident in the comments from her students.Seals is recognized by her students as being a hands-on instructor who provides the best opportunities for learning through her engagement and clarity of concepts. They say her teaching style is fun and she is easy to learn from.
One student says, "She is the heart of nursing and on the students' worst days, she is a light for us to keep going. Every teacher should aim to be as kind and caring as Nancy." Another states, "She makes teaching fun and loves all of her students!"
Seals has earned degrees from Ferris State University, Muskegon Community College and Grand Rapids Community College.
Media contact:
Shelly Springborn
Director of Communications and Public Relations
shellys@montcalm.edu
989-560-0833