Medical Assistant Certificate
Where To Go From Here
A Medical Assistant is a multi-skilled allied health care professional who performs administrative and clinical duties under the supervision of a licensed health care practitioner. Students completing this certificate program are qualified to work as medical assistants in a variety of settings including medical offices, outpatient facilities, health maintenance organizations, health departments, business and industry and insurance companies.
MCC is accredited by the Commission on Accreditation of Allied Health Education Programs (www.caahep.org) upon the recommendation of the Medical Assisting Education Review Board (MAERB). Minimum COMPASS or ACT test scores are required for math, reading and writing.
Why This Degree
The Certificate in Medical Assistant offers several entry-level career opportunities including administrative, clinical and ophthalmic medical assistants. This certificate prepares students with the skills and knowledge to perform tasks in doctor's offices and clinics and for medical providers. This certificate also prepares students for certification as certified medical assistants earning an average of $31,540 per year. There are also opportunities for advancement in careers as such nursing, earning $44,090 to $68,450 per year.
2019 MAERB Annual Report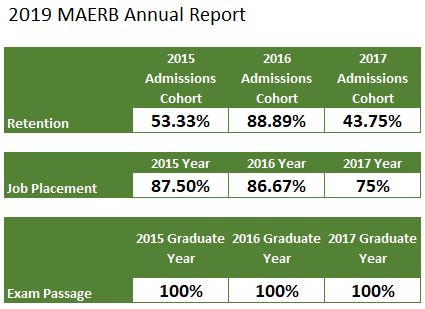 CONTACT US
|
Dean of Nursing and Health Careers Danielle Anderson
|
989-328-1271
|