News
Wednesday, June 13, 2018
Montcalm Heritage Village celebrates Log Cabin Day June 24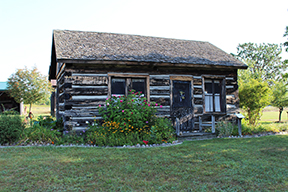 Montcalm Heritage Village will celebrate Log Cabin Day on June 24 from 1 to 5 p.m. on Montcalm Community College's Sidney campus.
The family-friendly afternoon is based around Montcalm Heritage Village's Shoen Log Cabin, built in 1860. Visitors can enjoy building tours, a wool spinning demonstration, a lumberjack show with Sheepshank Sam, live music with Fire Band, a pie baking contest and a children's craft station. All events are free, and concessions will be available to purchase.
Log Cabin Day was founded by the Log Cabin Society of Michigan and the Bad Axe Historical Society in Michigan in 1986 to help promote the preservation of historical log cabins and the artifacts they hold. The annual Log Cabin Day in Michigan is on the last Sunday in June.
When Heritage Village Committee President Shannon Kilduff learned about Log Cabin Day and how other historical societies celebrate the day with an event, she wanted to bring it to Montcalm Heritage Village.
"I'm always looking for new ideas to invite people to the village," Kilduff said. "I took the idea to the committee this spring and they voted 'yes' on the new event."
"Sheepshank Sam is a lumberjack and a teller of tales," Kilduff added. "He will demonstrate lumberjack tools and encourage audience participation. It will be an excellent show for the entire family."
The Montcalm Heritage Village Log Cabin Day Pie Baking Contest is open to people of all ages. There is no entry fee. To enter, you must submit two of the same pies and a copy of the recipe June 24 between 9 a.m. and noon at the pavilion in Montcalm Heritage Village on MCC's Sidney campus. One pie will be used for judging and the second pie will be sold at auction to raise funds to support Heritage Village. The judging starts at 1 p.m. Pies will be judged on the overall appearance, texture and flavor; crust; and filling. Contestants will participate in one of two categories: adults 14 and older, and children 13 and younger. Prizes will be awarded for 1st, 2nd and 3rd places in each category. For contest rules, visit www.montcalm.edu/events/log-cabin-day.  For more information, contact Cultural Events Coordinator Karen Maxfield at karen.maxfield@montcalm.edu or (989) 328-1065.
 "The pie baking contest will be a nice addition to Log Cabin Day," Kilduff said. "Not only will it act as a fundraiser for the village, but I hope it will also spark further desire to preserve historical buildings, artifacts and their legacy."
Montcalm Heritage Village is located on MCC's Sidney campus. For more information, visit www.montcalm.edu/heritage-village or contact Cultural Events Coordinator Karen Maxfield at karen.maxfield@montcalm.edu or (989) 328-1065.
Log Cabin Day events
9 a.m. to noon – Pie contest entries to be dropped off
1 p.m. – Pie contest judging begins
1-5 p.m. – Building tours, Gaffield School, Shoen Log Cabin and McBride Depot
1-5 p.m. – Wool spinning demonstration, Shoen Log Cabin
1-5 p.m. – Concessions, Pavilion
2-3 p.m. – Lumberjack Show with Sheepshank Sam, Shoen Log Cabin lawn
3-4 p.m. – Fire Band, Bandstand/Gazebo
3-5 p.m. – Children's crafts, Shoen Log Cabin lawn