News
Tuesday, May 26, 2020
Stanton woman is pursuing her 'dream' in agriculture at MCC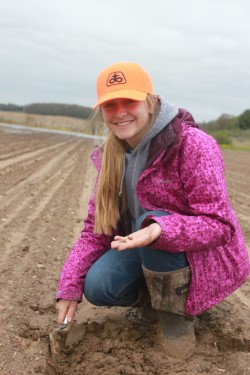 Lily Doyle has always wanted to be a farmer.
Although she wasn't raised on a farm, the 20-year-old from Stanton has fond memories of listening to her grandfather talk about his farming days.
"He would talk about how much he loved it. I thought it sounded fun. I could be outside all the time. It was kind of like my dream to be," she said.
Her dream starting to become reality after graduating from Central Montcalm High School in 2018 and enrolling for classes that fall at Montcalm Community College (MCC).
"I didn't know what I wanted to sign up for. My mom said 'you've always liked farming. Why don't you do something ag based?'" Doyle explained. "I talked with a counselor and they suggested I take a crop science class."
"I took the crop science class with Dan Rossman, and I absolutely loved it," she said. "Dan probably helped a lot because he absolutely loves what he does. He has so much enthusiasm when he's teaching it."
Doyle said that first experience prompted her to contact Merry Kim Meyers, who serves as the Michigan State University Institute of Agricultural Technology (MSU IAT) program coordinator at MCC and sign up for the Agricultural Operations program. The program is offered in partnership by the two institutions and students earn an associate degree from MCC and a certificate from MSU IAT upon completion.
Last summer, Doyle interned with Corteva Agriscience, working with seed corn growers. The process was not new to her as she had spent a summer during high school detassling corn. She is back with Corteva this summer, now as a planting supervisor. She is responsible for setting up fields with local growers and overseeing all aspects of planting on about 1,800 gross acres of seed corn in the Edmore area.
While she enjoys what she's doing, Doyle said she may shift gears a little from agricultural production to conservation in the future.
"I like wildlife," she said. "I'm into hunting and fishing. I've always loved going out with my dad while he taught me about wildlife and told of his experiences over the years. That's the kind of stuff that has always interested me, and I would love to do something like that."
Meyers said Doyle is just one example of how students with a non-agricultural background can find their way into an industry with so many possibilities.
"Lily has found a unique niche in agriculture being part of our local seed corn industry with Corteva," Meyers said. "Her Corteva mentor, Kayla Rock, has given Lily a wide range of
experiences. We are truly indebted to people like Kayla who recognize and nurture out future ag leaders."
During her time at MCC, Doyle has been active in the Collegiate Farm Bureau and the college's Ag Club. She also is a recipient of one of the 2020 MSU College of Agriculture and Natural Resources (CANR) Alumni Association scholarships. Doyle will continue taking classes at MCC this fall and then intends to transfer to MSU.
For more information about MCC's agricultural programs, visit www.montcalm.edu/agriculture.