News
Monday, July 13, 2020
Rod Nutt retiring from Montcalm Community College after 35 years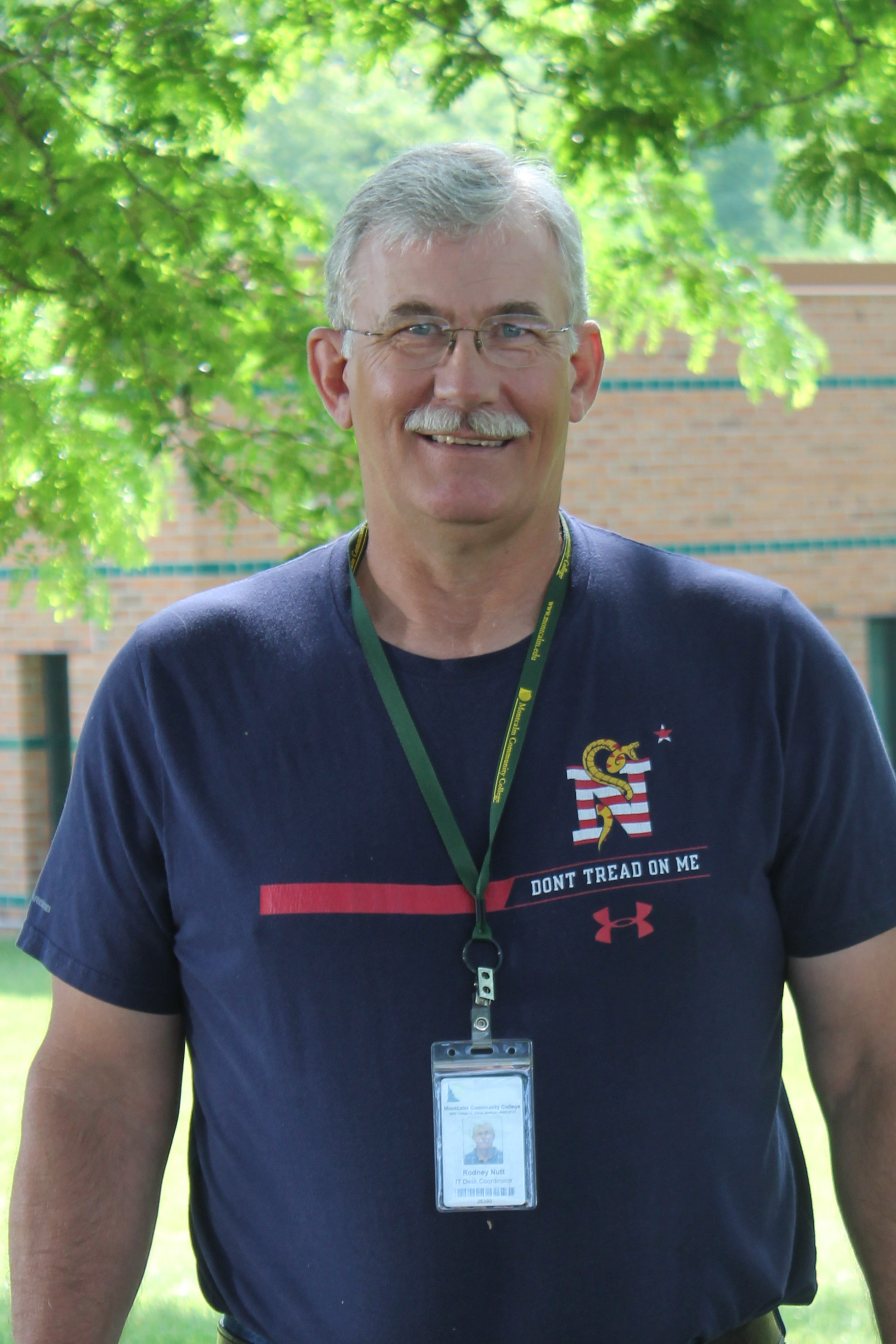 When Rod Nutt graduated from ITT Technical Institute in Grand Rapids, he was looking for an electric technician-oriented job. Instead he was offered a technology job at Montcalm Community College (MCC).
"My first title was Media Assistant. I worked with overhead projectors, 16-millimeter projectors, opaque projectors and slide projectors. All this eventually evolved into working in the IT department," said Nutt, who retired from MCC on June 30 after 35 years.
"At that time, in 1985, there weren't a lot of jobs available. It seemed like a good place to start," he said.
He and his wife, Sandy, married in 1983, with both of them employed at various part-time jobs. At age 23, Nutt decided it was time to get more serious about supporting a family.
"For me, there were two big positives. One, my dad had worked in the public school system and I learned from him that jobs like that have a good retirement package. Also, there was a good health insurance package. Thirty-five years later, here I am," Nutt said.
Along the way, Sandy took college classes and earned several degrees, and their daughter, Sara, born in 1987, participated in summer camps, dual enrollment, worked as a lab assistant and tutor in the Science Lab and went on to Michigan Tech, where 29 of her 30 MCC credits transferred. Sara later graduated from Michigan Tech, earning degrees in chemistry, math and a teaching certificate. She now teaches at a local high school and has taught several classes for MCC as an adjunct instructor.
"She kind of grew up on the MCC campus," Nutt joked, adding that their family now includes three grandchildren.
In 1995, Nutt became part of the Information Technology (IT) department.
"There was a changing, emerging technology," Nutt said, "I was not one of those kids growing up who was a Trekkie. Who could imagine that you could put your finger on a screen and make things happen? It was all kind of make-believe. And now we have people in space in the cockpit doing just that."
Rod Middleton, Director of Information Technology Services, worked with Nutt over the three and a half decades.
"Rod and I were colleagues for about 10 years when we combined media services, academic computing and administrative computing into one department. I then became Rod's supervisor, but he was always in charge of his own work. His first role was Media Assistant in the Learning Resource Center. He became the telecommunication specialist in ITS with responsibility for distance learning networks and classroom technology or teacher stations. He ended his time at MCC as Service Desk Coordinator, where
he managed many of the areas above as well as setup of technology for events and helped manage the service desk technicians."
From starting out on his first computer at the library, working with floppy discs, to satellite classrooms and infrastructures, Nutt found himself in a constantly changing field.
"I helped get the interactive classes going and setting up the technology for MCC to partner with Grand Valley State University to offer their four-year nursing program here," Nutt said.
During this time, he oversaw the installation and operation of the classroom technology that was used by universities for advanced classes that were offered at remote locations.
"Back then, we used a 21-inch TV for each site so both the instructor and remote sites could see everyone. Zoom and Teams meetings are a more advanced form of this," he said.
"I've also seen buildings added to the MCC campus and the two buildings come up in Greenville. For a while, around 1998, I had an office in a closet in the Activities Building while the Doser Building was being built," Nutt added.
Besides working with a lot of great people, one thing Nutt really appreciated about the job "was that I was always given the resources I needed to improve myself. I had opportunities to grow and expand the things that I did. It is not one of those dead-end jobs. It has and is evolving in so many ways.
"Rod has been great at learning new things as he moved from cable TV, film projectors and carousels to VCRs and then to networked teacher stations with document cameras and whiteboarding," Middleton said. "Setting up for a live event has gone from an analog microphone to digital recording and streaming. Rod has become known for demanding a quality setup that enhances rather than distracts from events."
David Kohn, Associate Director of Information Technology Services, said Nutt spent a lot of time working behind the scenes to support college activities.
"Rod was responsible for providing IT support management for classrooms, including audio and video needs, the security cameras network on campus, making sure everything ran smoothly for events on campus such as graduation, guest speakers or special programs. If everything runs smoothly, no one sees or hears you. If it, he was the first person they looked for. Rod had a huge role in our department – it could be a high stress job.
"There are a lot of different things a speaker may need. There were times Rod would get a call two hours before a speaker came in with a request for something we had not expected. He had to be flexible and quick on his feet," Kohn said. "He was all over campus, participating in a lot of different things. It was not just an 8-to-5 job, he was setting up the night before, was in early in the morning prior to an event, and was here weekends."
"Whenever you wonder about the guy behind the curtain, that was me," Nutt joked.
"A jack-of-all-trades, Nutt was someone we could count on," Middleton said.
"Rod would be helping run wire or helping manage part-time employees," he said. "He has taken on various extra roles such as the college's video surveillance system, networked windmill and solar panel and digital external signs."
One event Nutt is proud of is the celebration of MCC's 50th anniversary.
"It was one of the most difficult, but also one of the most rewarding events. Gary Hauck was the master of creativity on it. If you give me a blueprint of a picture of something, I can build it, but he was the one who helped put it together. I was responsible for sound, audio and video, and I am quite proud of all we accomplished," Nutt said.
"The people I worked with, well, they always seemed to have more confidence in me than what I did. That takes a lot for a boss to be trusting of the staff. That's the difficult part of this (retiring). My family and I are better people because of the people we've met through MCC – the people who have made a difference in our lives," Nutt said.
A health scare a few years ago was when Nutt began to consider retiring.
"That was a wake-up call for me. I knew I had to do two things. I had to learn to deal with the stress differently, and I had to start planning for retirement," Nutt said.
For now, while his wife is on furlough from her job due to the COVID-19 pandemic, Nutt plans on doing some walleye and salmon fishing.
"We are kind of in limbo right now while we wait and see if she is called back to work at the end of July or not. But now I'll have more time for deer hunting and elk hunting," he said.
The evolving field also makes it difficult to find a replacement now that Nutt has retired.
"I don't think we can replace him, but we are working on a new Service Desk Lead position to continue to move the college forward and maintain the edge we have on other institutions with our technology," Middleton said. "One of his legacies will be consistent technology in every room that an instructor can count on when it is class time."
Kohn said it will be hard to replace him.
"The difficult part will be that we won't be able to fill his skill set. He had 30-plus years of experience in multiple areas, and we won't be able to get someone that has the skill set and knowledge like Rod."