News
Tuesday, July 19, 2022
Greenville Area Community Foundation pledges $1.25 million to MCC's 'Transforming Lives, Empowering People' campaign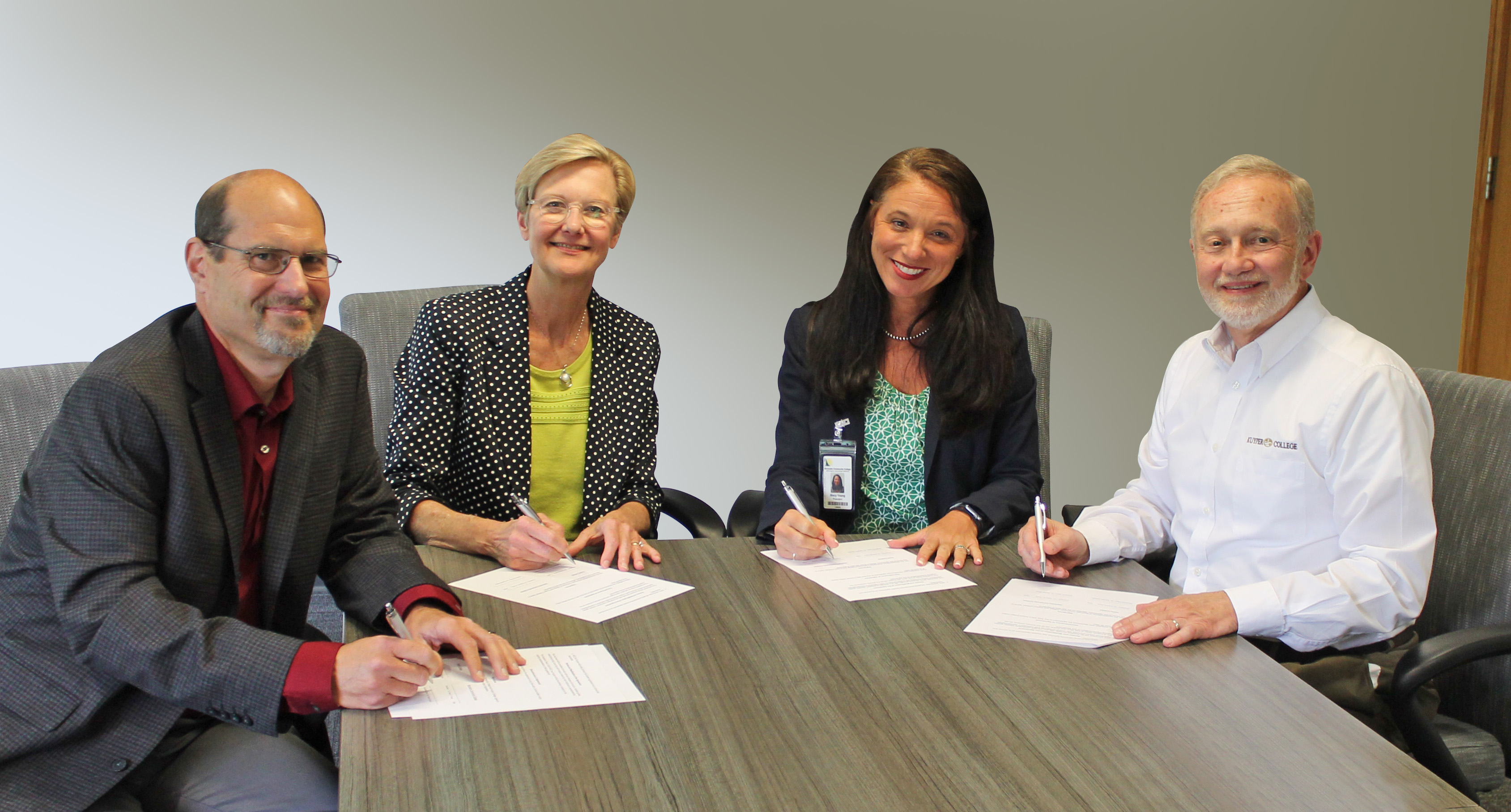 The Greenville Area Community Foundation (GACF) recently awarded Montcalm Community College a five-year grant totaling $1.25 million to support the college's "Transforming Lives, Empowering People" campaign.
The "Transforming Lives, Empowering People" campaign is designed to allocate $7 million to developing programs to help students gain access and be successful at MCC.
GACF Board Chair Pete Blinkilde said the college's project supports the Foundation's mission to enhance the quality of life in the Greenville area.
"Thriving communities support their educational systems," Blinkilde said. "Our donors have had that vision in mind when supporting GACF, and in turn the Foundation has supported the gem we know of as Montcalm Community College.
"We are pleased to make this grant as by making our college a better place, we make our community a better place," he added.
MCC President Stacy H. Young, Ph.D., said this gift is a generous demonstration of the GACF's support of the college's mission of transforming lives through quality education.
"We are so appreciative of the Greenville Area Community Foundation's pledge. Their support plays a vital role in enhancing the educational opportunities for a variety of students, which ultimately impacts the success of our local economy.
"This is a testament to their belief that the college plays a vital role in helping to create a stronger, more robust and successful community," she added.
Because of a generous community of donors, the GACF has a diverse group of endowment funds that allow the Foundation to grant to a variety of local nonprofit organizations. The specific funds supporting the MCC grant include: Stanley & Blanche Ash Community Improvement Fund, Bill & Helen Braman Fund, Braman Family Fund and Grace Sagendorf Education Fund.
The lead initiative of the "Transforming Lives, Empowering People" campaign is a $5 million renovation of the Kenneth J. Smith Instructional Building. The Smith Building is a major campus destination as it holds more than half of the college's Sidney campus classroom space, its flagship nursing program, and courses in science, technology, engineering and mathematics (STEM). Upon completion, the Smith Building will be transformed into the college's Center for Nursing & Health Careers and the Center for STEM Learning. Specialized spaces will include clinical simulation labs, preparation and debriefing rooms, treatment rooms, a clinical testing and training apartment lab, science and biology labs, phlebotomy labs and specialized student learning spaces, as well as the addition of specialized equipment and technology.
Through this gift, the Center for STEM Learning on the second floor of the Smith Building will be named in recognition of the GACF's pledge.
In addition to the Smith Building renovation, other campaign initiatives include:
$500,000 toward a STEM Program Development and Technology Fund for equipment, technology and curriculum to support teaching and learning.

$500,000 toward First-Generation Scholarships to benefit students who are the first in their family to go to college.

$250,000 toward Mid-Career Scholarships to benefit middle-income students who do not qualify for financial aid, but also do not have the means to pay cash for college.

$450,000 toward Program-Specific Scholarships to benefit students in specific program pathways.

$300,000 toward the MCC Express Conductor Program to provide a point of contact (conductor) to work with students from their first point of contact with the college to the time they enter classes and throughout their time at MCC.
For more information about MCC's "Transforming Lives, Empowering People" campaign, visit montcalm.edu/mccf or contact MCCF Executive Director Lisa Lund at lisal@montcalm.edu or 989-328-1284.
Since its inception in 1989, the GACF has grown to encompass the entire Montcalm County area through its geographic affiliates, the Lakeview Area Community Fund and the Montcalm Panhandle Community Fund. For more information about the Greenville Area Community Foundation, visit gacfmi.org.
Media contact:
Shelly Springborn
Director of Communications and Public Relations
shellys@montcalm.edu
989-560-0833