News
Wednesday, December 21, 2022
MCC students and employees volunteer 10,000 hours of community service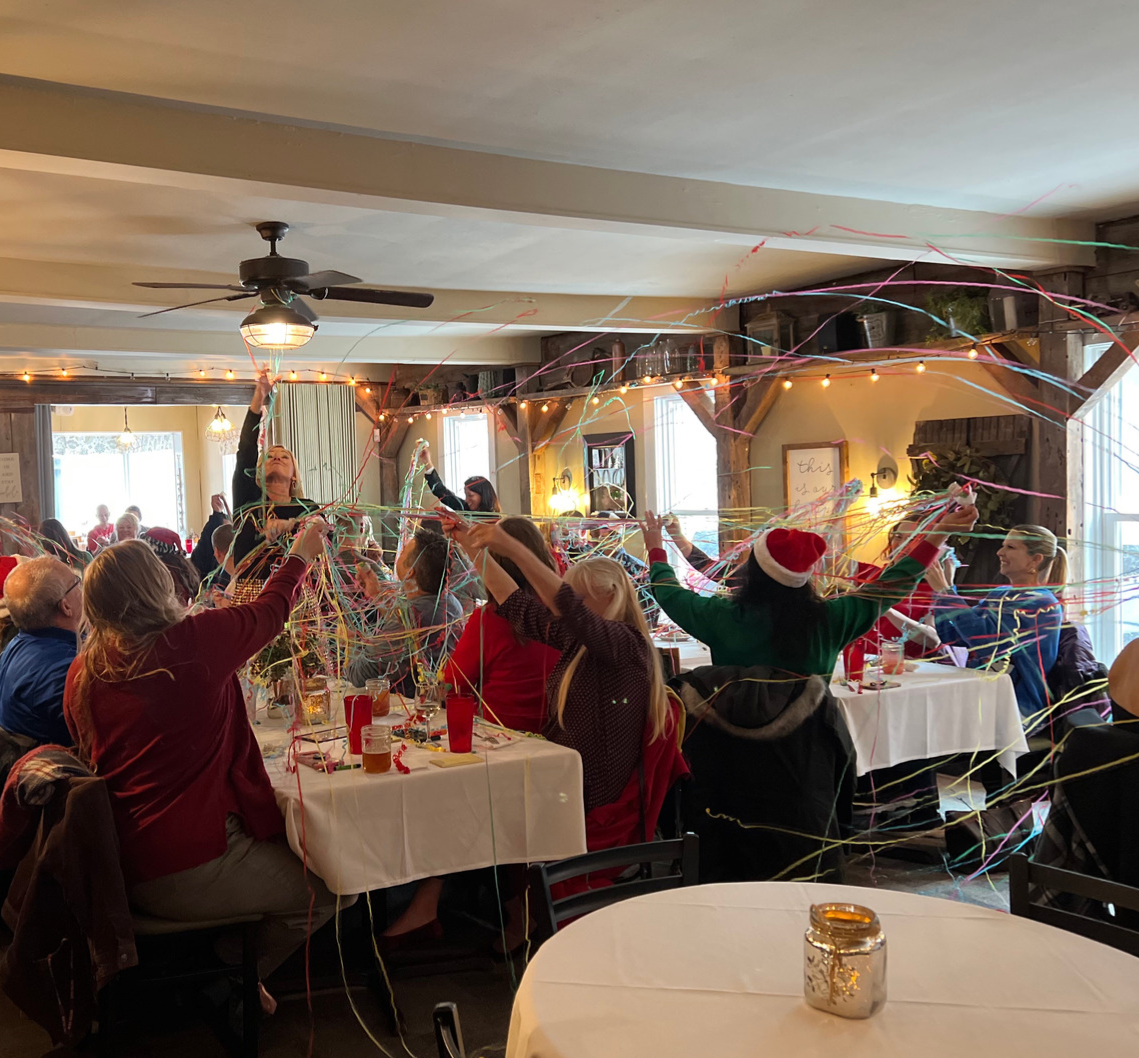 Montcalm Community College employees and students hit their goal of volunteering more than 10,000 hours of service in our community just in time for the holidays. 
"This is an exciting day," said MCC President Stacy H. Young, Ph.D. "A little over a year ago, we challenged our employees and students to work toward achieving 10,000 volunteer hours to help make a difference in our community." 
Dr. Young announced the milestone during the college's annual holiday gathering on Dec. 16, to which employees cheered and popped confetti streamers in celebration. 
Since the project began, hundreds of volunteers have worked on a variety of projects. A total of 10,236 hours has been spent working at area churches and schools, volunteering with charitable organizations such as Rotary and Lions Clubs, providing care at animal shelters, cleaning up roadways and trails, helping others learn to read, coaching academic and athletic teams, mentoring students, serving as 4-H leaders, and more. 
MCC Career Advisor Amy Zdanowski volunteered in a variety of areas throughout the year, serving senior citizens, schools, her hometown and more. 
"I volunteer to make a difference in my community and to remind people of the kindness that exists in the world," she said. 
Shelly Anderson, who teaches as an adjunct instructor at MCC, volunteers with The B Foundation in Belding. The organization was founded in 2011 to support Belding community members battling cancer. 
"I volunteer to give hope to those in our community impacted by cancer," she said. 
Language Arts Instructor Greta Skogseth has given her time and talents to many organizations over the years. 
"This year, I joined the Lions Club of Greenville. Their motto is 'We Serve,' which to Lions means selfless service to others in need in our local communities." 
Lisa Lund, Executive Director of the MCC Foundation, enjoys supporting others. 
"By contributing, I make my community stronger," she said. 
MCC Vice President for Administrative Services Connie Stewart is a member of the board for Relief After Violent Encounter (RAVE) Ionia/Montcalm Inc. 
"I had a personal interest in this board and was looking to contribute to the community as a volunteer," Stewart said. "I wasn't sure if this would be a good fit for me, but after a year of being on the board, I am glad that I got involved. I understand more about what RAVE does and what their mission is, and I am proud to be part of that mission." 
Throughout the year, several students have also participated in service learning projects. 
Earlier this month, MCC's Business Professionals of America (BPA) Club held a food drive to support IM Kids 3rd Meal in Fenwick. 
Club member Claire Scott of Greenville said, "It feels good to do good." 
For the third year, MCC Ag Club put together food baskets for area families in November for Thanksgiving. 
Ag Club President Jeff Marek of Howard City said, "I like the idea of giving back to the families in need. I enjoy what we do, especially when we give back to the community." 
Dylan Knauf of Cedar Springs said the project "taught me to be unselfish and give back to others." 
Laura Storey of Remus agreed. 
"It taught me a lot about getting involved on campus and in the community," she said. 
Dr. Young said she is proud of all of the accomplishments through this project. 
"Our goal with 10,000 hours was to aimed at creating awareness for a variety of needs and the impacts volunteering has on the community as a whole," Dr. Young said. 
"Community is our middle name, and we are committed to supporting the areas we serve," she added. 
Visit montcalm.edu/service for more information. 
Media contact:
Shelly Springborn
Director of Communications and Public Relations
shellys@montcalm.edu
989-560-0833