News
Tuesday, January 3, 2023
There's still time to register for spring classes at MCC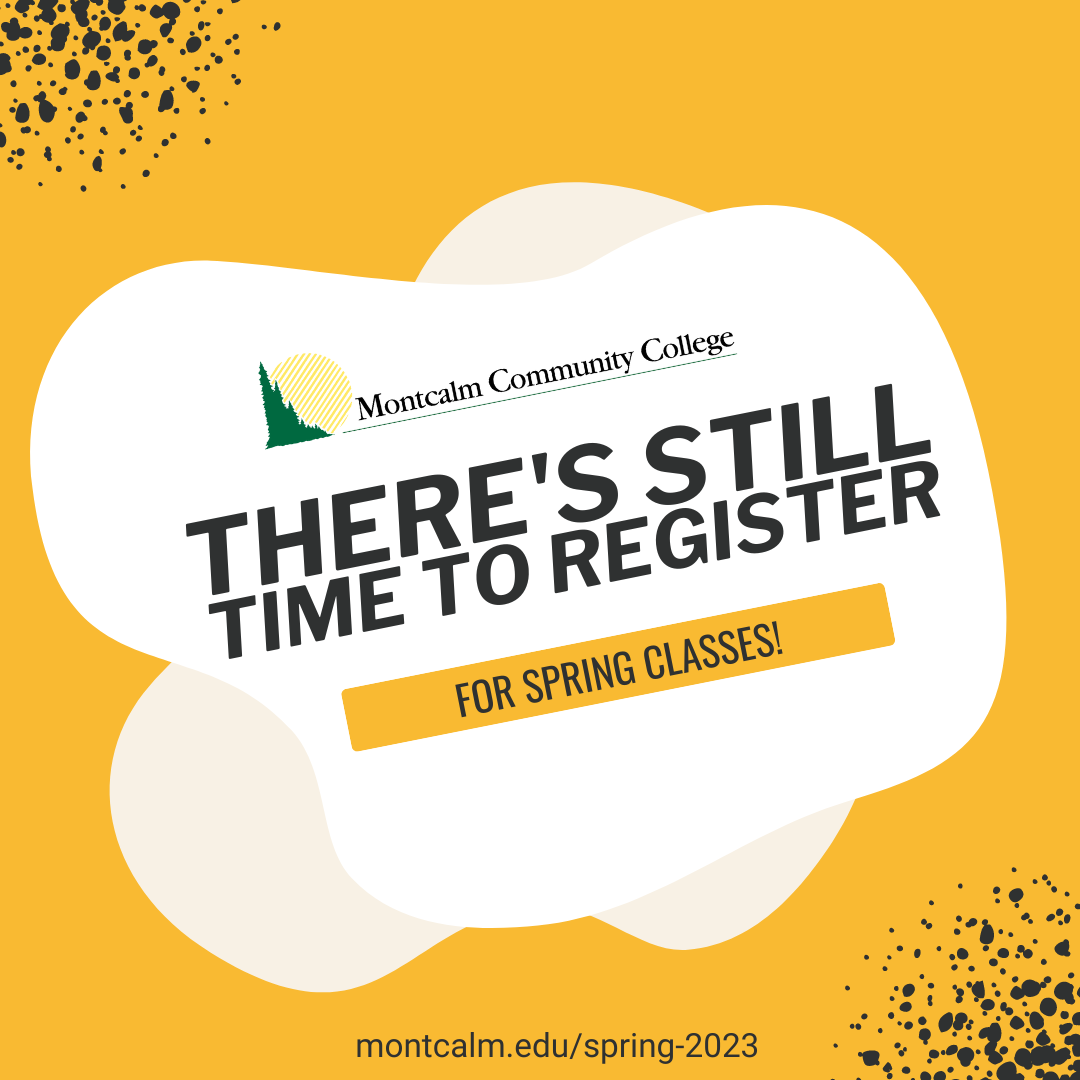 If you are planning to attend Montcalm Community College this spring and have not yet registered, don't wait! Time is running out to get the classes you need at times that are convenient for you.
ADVISING OPTIONS
Not sure what you're doing? We can help with walk-in and call-in advising.
For a phone or Teams appointment, please call 989-328-1264 to have your name added to the queue. An advisor or counselor will return your call in the order it is received. For an in-person session, stop by the Student Success Center in the upper level of the Donald C. Burns Administration/Library Building on MCC's Sidney campus. The queue order will be followed regardless of the location. There may be extensive wait times. Hours are:
Jan. 3: 12 to 5 p.m.
Jan. 4 and 5: 8:30 a.m. to 4 p.m.
Jan. 9 and 10: 8:30 a.m. to 5 p.m.
Jan. 11: 8:30 a.m. to 4 p.m.
Jan. 16, 17, 18 and 19: 8:30 a.m. to 5 p.m.
If you are unable to attend one of these scheduled sessions and would like to schedule another time, please call 989-328-1264.
FINANCIAL HELP
We may be able to help you pay for part of your bill.
The MCC Foundation is offering a special Spring Semester Scholarship to help students who continue their education at MCC during the 2023 spring semester. The scholarships are an extra incentive to support students in paying for tuition and fees as they work to achieve their academic goals. The scholarship will be used only after all other aid students are eligible for is applied to their costs. Eligible student costs include tuition, fees, books or other course-related charges for 2023 spring semester.
Award amounts include:
•
6 to 8 contact hours – up to $500
•
9 to 11 contact hours – up to $750
•
12 to 14 contact hours – up to $900
•
15+ contact hours – up to $1,200
The spring scholarship application is electronic and very easy to complete. Visit montcalm.edu/scholarships to apply and for more information.
REGISTER NOW!
For a complete list of MCC's spring course offerings and a link to register, visit montcalm.edu/spring-2023. The 2023 spring schedule of courses is also available through MyMontcalm under the Academics tab at http://my.montcalm.edu.
MCC's spring classes begin Jan. 14, 2023, unless otherwise noted and you may register for a class until the first time it meets.
For more information, email registerhelp@montcalm.edu or call MCC's Student Services at 989-328-1277.