News
Friday, March 17, 2023
Hoffmans claim top two spots at Centurion 5K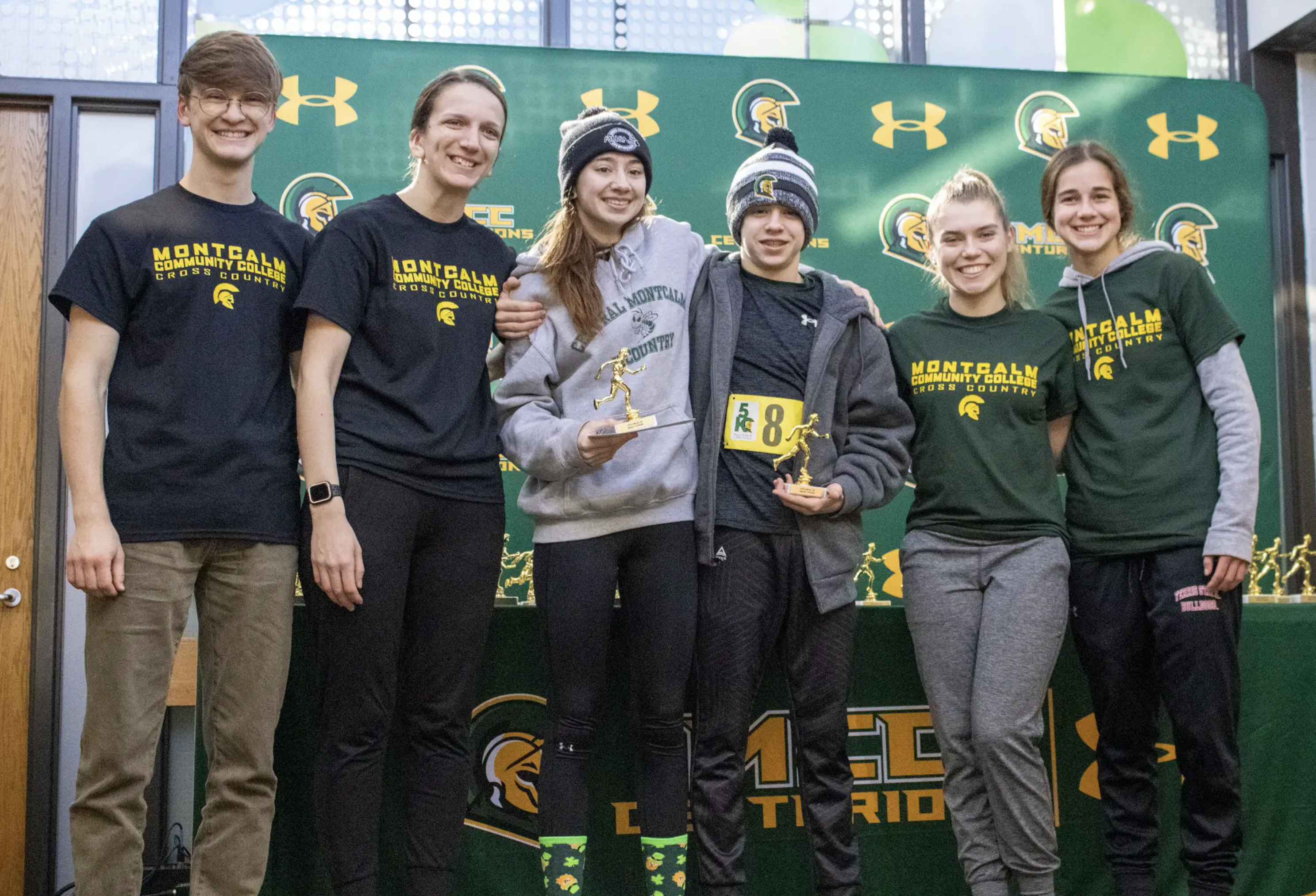 Gage Hoffman, 14, and Kyah Hoffman, 15, both of Orleans, placed first and second in the inaugural Montcalm Community College Centurions 5K Run.
Forty-three people ran in the race on March 11 on MCC's Sidney campus. The course was paved and grassy areas around the campus. All the proceeds from the event benefit MCC's Cross Country program.
The placings, categorized by age and time, are listed below.
5K run/walk overall male and female (by time):
Overall male: Gage Hoffman, 14, Orleans
Overall female: Kyah Hoffman, 15, Orleans
Masters Champion
Chris Town, Greenville
Jill Evers, Kent City
Male 12 & younger
Blake Gale, Greenville
Male 13-18
Parker Gale, Greenville
Kolby Sattler, Stanton
Daniel Shepard, Stanton
Female 13-18
Gracelin Martin, Greenville
Nicole Gale, Greenville
Male 19-24
Jakob Phillips, Gowen
Female 19-24
Emma Sweeney, Rockford
McKenna Bowen, Sheridan
Female 25-29
Kaytlynne Kerwin, Kent City
Male 30-34
Robert Gale, Greenville
Female 30-34
Kate Baker, Greenville
Male 35-39
Terren Schafer, Ionia
Female 35-39
Mandy Frye, Marshall
Lexi Lopez, Ionia
Male 40-44
Jeffrey Hahler, Greenville
Female 40-44
Kelli Steffen, Ionia
Alisha Russell, Gowen
Sarah Stoots, Greenville
Male 45-49
Gus Salto, Grand Rapids
Female 45-49
KC Harkness, Grand Rapids
Shannon Bowen, Sheridan
Holly Guilford, Sidney
Male 50-54
Rob Phillips, Gowen
Female 50-54
Cristina Pierce, Edmore
Amy Shinabarger, Stanton
Jenny Trains, Sheridan
Male 55-59
Klaas Kwant, Grand Rapids
Male 60-64
Scott West, Allendale
Thomas Schafer, Ionia
Male 65-69
Rick Kramer, Ionia
Female 65-69
Mary Abbott, Sheridan
Jeri Walma, Cedar Springs
Jill McLees, Orleans
Male 70-74
Dave Thurston, Fowler
David Borck, Grand Rapids
Dale Wheeler, Muskegon
Female 70-74
Linda Borck, Grand Rapids
Male 75-79
Don Harp, Alpena
Media contact:
Shelly Springborn
Director of Communications and Public Relations
shellys@montcalm.edu
989-560-0833