One Book
One Book One County Montcalm encourages area residents to read the same book at the same time and share it with their friends and family. It is often integrated in curriculum by area schools and instructors at Montcalm Community College.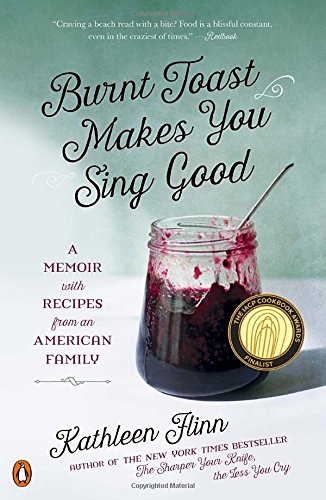 One Book selection & Description"Burnt Toast Makes You Sing Good" by Kathleen Flinn is the book everyone is reading as the 2018 One Book One County Montcalm selection.
A mix of food and memoir, "Burnt Toast Makes You Sing Good" is a family history peppered with recipes offering a humorous and flavorful tale spanning three generations. Brimming with tasty anecdotes about Uncle Clarence's divine cornflake-crusted fried chicken, Grandpa Charles's spicy San Antonio chili, and Grandma Inez's birthday-only cinnamon rolls, Flinn shows how meals can be memories, and how cooking can be communication. "Burnt Toast Makes You Sing Good" will inspire readers to reminisce about their own childhoods—and spend time in their kitchens making new memories of their own.
About the AuthorKathleen Flinn is best known as the author of the New York Times bestseller "The Sharper Your Knife, the Less You Cry," a memoir with recipes about leaving her corporate life to study at the venerable Le Cordon Bleu in Paris and falling in love along the way. 
Her latest book, "Burnt Toast Makes You Sing Good", is a multi-generational culinary memoir that tracks the trials of her Midwest family. That title was named a 2015 Michigan Notable Book, and a finalist in the IACP Cookbook Awards, Goodreads Choice Awards and the Pacific Northwest Book Awards, among others.
She and her husband, Mike, divide their time between Seattle and Anna Maria Island, Fla., their trusty rescue dog, Maddy, in tow.
Book DiscussionsA total of eight book discussions are offered for the One Book One County Montcalm selection, "Burnt Toast makes You Sing Good" by Kathleen Flinn. View dates, times, locations and discussion questions for the book discussions.
one Book EventsCheck out the list of One Book events and plan to attend to enhance your reading experience.  Admission to all One Book events are free.

One book cookbookReaders are encouraged to share their favorite family recipes in this unique online One Book cookbook.  Recipes can be searched by category (appetizers, main dishes, salads, beverages and desserts) and downloaded for personal use. 
Suggested ReadsIf you enjoyed "Burnt Toast Makes You Sing Good", check out these suggested reads.  
You can also review a list of former One Book selections from 2005-2017.
Book Reviews
"I can never get enough of true stories about people who stop in the middle of their life's journey to ask, 'What do I really want?' and then have the guts to actually go get it. Kathleen Flinn's tale of chasing her ultimate dream makes for a really lovely book— engaging, intelligent and surprisingly suspenseful."—Elizabeth Gilbert, author of "Eat, Pray, Love"
"Craving a beach read with a bite? Kathleen Flinn's new memoir, "Burnt Toast Makes You Sing Good", chronicles her Midwestern family's culinary adventures, starting with a move cross-country to run her uncle's pizzeria. There are plenty of hilarious missteps (like a maybe-don't-try-this-at-home experience raising chickens), but food is a blissful constant, even in the craziest of times. And the book is filled with recipes - Grandpa's Mich-Mex chili, Mom's cinnamon rolls - so you can create some memorable family meals of your own." - Redbook Magazine
"A charming, yet surprisingly suspenseful account of the education of a chef (with some classic recipes and many tips), but also one woman's inspiring story of rising to, and surmounting, an imposing challenge." – Seattle Post-Intelligencer 
Where to Get the BookThe 2018 One Book One County Montcalm selection, "Burnt Toast Makes You Sing Good" by Kathleen Flinn, will be available for purchase at the kickoff on June 21 at a 10 percent discount and will continue to be available for purchase at the Montcalm Community College Bookstore, operated by Barnes & Noble, on the college's Sidney campus, at its regular price throughout the course of the One Book program.Copies of the book are available to be checked out at the following locations:
Carson City District Library

Crystal Community Library

Flat River Community Library in Greenville

Home Township Library in Edmore

Timothy C. Hauenstein Reynolds Township Library in Howard City

Tamarack District Library in Lakeview

The Montcalm Community College Library on the college's Sidney campus

Richland Township Library in Vestaburg

White Pine District Library in Stanton
One Book Sponsors
One Book One County Montcalm is sponsored by Stafford Media Solutions, MCC, the MCC Foundation and the public libraries of Montcalm County.
CONTACT US
|
Karen Maxfield, Cultural Events Coordinator
|
989-328-2111, Ext. 334
|